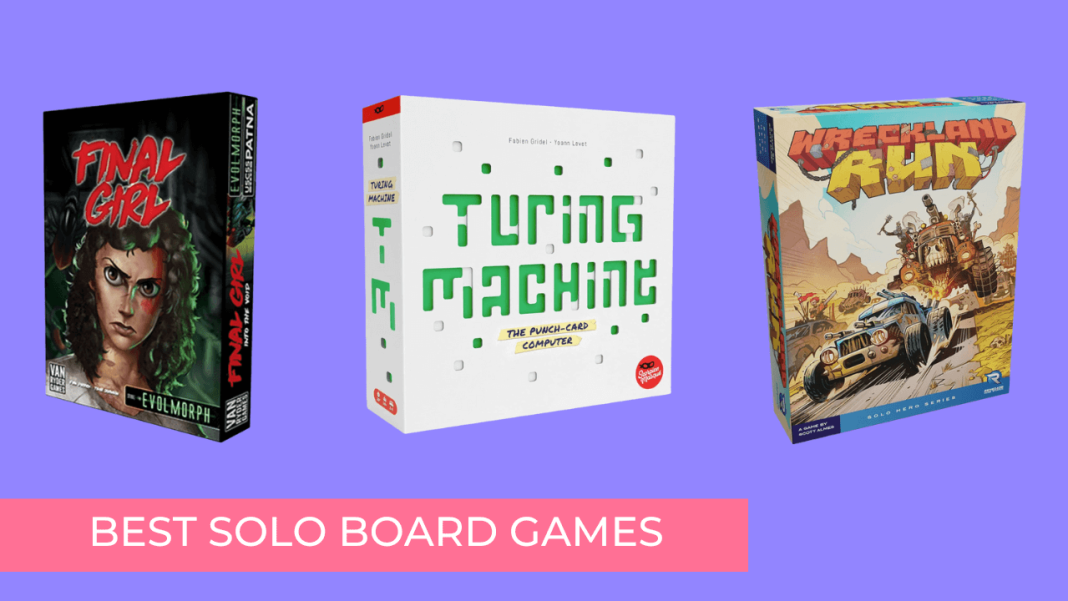 Board games are super fun. From the thrill of rolling the dice to solving the most complex puzzles with your friends and family, there's something for everyone to savor! And while the real thrill and excitement surrounding board games involve your close ones, what would you do when you have no one to play with? Well, let us tell you the good news!
Many solo board games in the market involve exploring the wilderness, solving complex mysteries, trekking the world (literally!), etc. See? No reason to be upset! But which one to play among so many options is a tricky question. This is where our expert opinion comes in.
Here, we will share the best solo board games to make your days and night exciting and entertaining. Our experts have tried and tested over fifty solo board games over the past few months to settle on the following. So, leave everything you're doing and get stuck in!
Our Top Picks
| | | |
| --- | --- | --- |
| Top Pick | Budget Pick | Runner Up |
| Onirim Board Game | Dimension: The Brain Game to Go Board Game | The Search for Planet X |
| | | |
| Onirim Board Game stands out as our Top Pick for its engaging gameplay, the intriguing theme of exploring dreams, and solo or cooperative options. With various expansions available, this game offers endless replayability, making it a favorite among solo players seeking immersive adventures. | The Dimension: The Brain Game to Go Board Game is our Budget Pick for those on a budget. Its pocket-sized version of the original Dimension game provides challenging puzzles and a quick setup for on-the-go entertainment, making it an ideal choice for solo players seeking portable fun. | As our Runner Up, The Search for Planet X excels in providing a captivating campaign experience with a strong focus on logic and deduction. Including an app to simulate scientific investigation adds depth to the gameplay, and the ability to play solo or with friends makes it a versatile choice for all players. |
How We Tested Best Solo Board Games?
When finding the absolute best solo board games that guarantee hours of captivating entertainment, our team of experts left no dice unrolled! With our sleeves rolled up and excited, we rigorously tested and evaluated various solo board games, carefully examining crucial factors to ensure our recommendations stand out.
1. Immersive Gameplay and Storyline
At the core of every exceptional solo board game lies an immersive gameplay experience and a gripping storyline. We delved into each game's narrative depth, examining how well it transported players into new worlds, challenged their strategic thinking, and allowed them to immerse themselves fully in the gameplay.
The best solo board games had captivating storylines, rich backstories for characters, and challenges that kept us on the edge of our seats.
2. Solo Play Balance and Difficulty
A truly outstanding solo board game perfectly balances challenging and rewarding. We meticulously evaluated the difficulty levels of each game to ensure that players were neither overwhelmed nor underwhelmed by the experience.
The ideal solo board game provides an enticing challenge that tests a player's strategic acumen without becoming frustratingly difficult.
3. Solo-Specific Mechanics and Engaging Components
To truly stand out as a solo board game, it must offer distinct mechanics and components tailored to solo play. We focused on games that went beyond merely adapting multiplayer games for solo mode.
The top contenders demonstrated ingenious solo-specific mechanics that enhanced the experience, such as AI opponents with realistic behaviours, autonomous decision-making systems, and solo-specific campaign modes. 
Comparison Chart
Image
Product
Detail
Price

Onirim Board Game

InPatience
Prophecy Theme
Oneiric doors will lead you through the dream labyrinth

Price

Dimension: The Brain Game to Go Board Game

Thames & Kosmos
Puzzle Theme
Competing over 200+ puzzles

Price

The Search for Planet X Board Game

Renegade Game
Strategy Theme
Become an astronomer!

Price

Turing Machine Board Game

Scorpion Masque
Math Theme
Testing your hypothesis

Price

Maquis Board Game

Giga Mech
Wargame Theme
Solitaire worker-placement

Price

Mini Rogue Board Game

Ares
Family Theme
Inspired by roguelikes and roleplaying

Price

Call to Adventure Board Game

Adventure Games
Fantasy Theme
Double-sided adversary cards

Price

Wreckland Run Board Game

Renegade Games Studios 
Hero Theme
Played across a campaign of 7 chapters

Price

Final Girl: Wave 2: Into the Void Board Game

Van Ryder Games
Horror Theme
It's kill or be killed in this one!

Price

Legacy of Yu Board Game

Renegade Game
Ancient Theme
Repel the barbarians

Price
List of 10 Best Solo Board Games
1. Onirim Board Game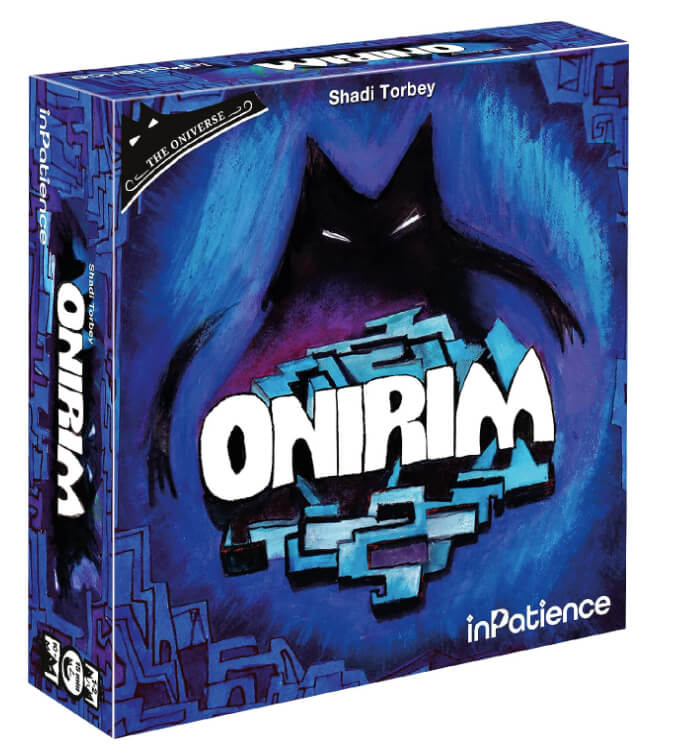 Explore dreamy labyrinths in solo or cooperative two-player mode.
Use Prophecies to reorder the deck's top cards strategically.
High replayability with seven expansions offering new challenges.
Quick setup and fast-paced gameplay in just 15 minutes.
An immersive journey through the realm of dreams with mystical doors.
Key Specifications
| | |
| --- | --- |
| Material | Plastic |
| Players needed | 1-2 |
| Time to play | Approximately 15 mins |
| Theme | Prophecy |
Onirim distinguishes solitary board games as an engaging and demanding experience that allows players to explore the world of dreams. Like Friday, another well-known solitary-player board game, Onirim adds a distinct touch with its beautiful labyrinth and supernatural Prophecies. Both games include strategic card gaming, but Onirim takes players on a dreamlike journey, making it a must-try for lone gamers looking for a unique and immersive experience.
Players in Onirim go on a single or cooperative two-player trek through a mystical labyrinth in quest of the elusive doorways of dreams. The game is played by playing or discarding Location cards to uncover a door by playing three Locations of the same color in a row.
However, time is of the essence, and the deck contains more than simply a stack of cards; nightmares await to obstruct your mission. But don't worry! The Prophecy ability enables you to re-arrange the top five cards in the deck, adding a strategic aspect to the game.
The game is simple to set up, and its small size makes it ideal for fast play sessions. With an average playtime of around 15 minutes, you can easily fit an exciting adventure into your day, whether during a coffee break or a moment of leisure.
Onirim shines even brighter due to its extremely changeable character since the basic game has seven expansions that bring new cards and obstacles, keeping the adventure through the dream labyrinth fresh and fascinating.
Our recommendation
Onirim preserves the sense of a dreamy world while providing a highly fascinating and strategic card game experience for single players. Onirim keeps players returning for more with its unique gaming mechanics, the excitement of uncovering the maze, and the ever-present suspense of battling nightmares. 
Pros
Engaging gameplay
Strategic depth
Replayability
Quick sessions
Cons
Minimal player interaction.
2. Dimension: The Brain Game to Go Board Game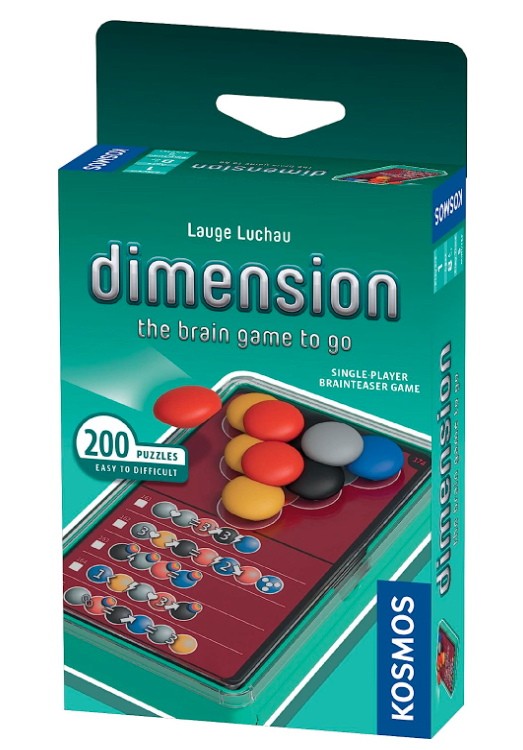 Portable solo puzzling on the go.
Gradually increasing difficulty with 200+ puzzles.
Compact plastic case and component container.
Strategic placement of 15 plastic pieces.
Quick setup and engaging gameplay.
Key Specifications
| | |
| --- | --- |
| Material | Plastic |
| Players needed | 1 |
| Time to play | 15 minutes |
| Theme | Puzzle |
Dimension: The Brain Game to Go delivers abundance for solitary players looking for a portable puzzle experience. The engaging gameplay and challenging puzzles of this pocket-sized version of the original Dimension game are reminiscent of other solitary board games such as Onirim. This brain-teasing game is ideal for solitary players who wish to engage in mental exercise anywhere, at any time. The game's compact plastic casing is the playing area and component storage.
In Dimension: The Brain Game to Go, players embark on a solitary puzzle-solving journey that begins but progressively becomes more challenging, offering over 200 puzzles to test their cognitive abilities.
The game's premise is straightforward: participants must strategically place 15 plastic pieces on a card within the confines of a plastic case. As you progress, the challenges become increasingly complex and thought-provoking, giving you a gratifying sense of accomplishment with each puzzle you solve.
It is simple to set up, making it ideal for fleeting leisure during travel or coffee breaks. Its pocket-sized design allows it to fit effortlessly in your purse, ready to amuse and challenge you whenever desired.
The game's length is optimal for short play sessions, allowing you to exercise your mind while moving. The incorporation of twenty cards assures a diverse and thrilling puzzle-solving experience, keeping players enthralled for hours.
Our recommendation
Dimension: The Brain Game to Go is a fascinating solitary board game that combines straightforwardness and mental acuity. With its portable and self-contained design, this game is an excellent option for solitary players who enjoy challenging their wits on the go. Its increasing difficulty ensures that there are always new challenges, making it a popular option among puzzle enthusiasts. 
Pros
Portable brain teaser
Varied puzzles
Compact design
Quick and engaging
3. The Search for Planet X Board Game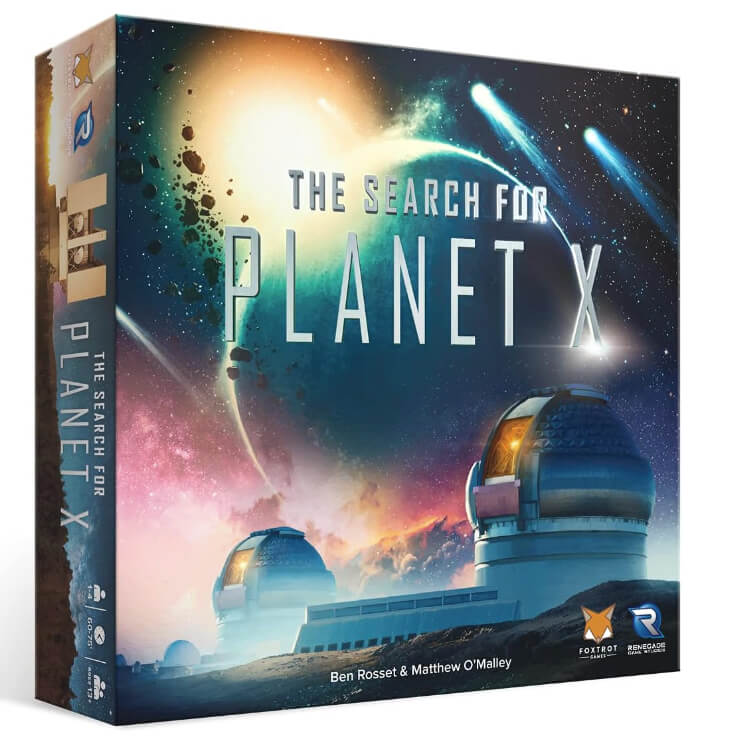 Solo or multiplayer astronomical investigation with app support.
Randomized object arrangement and Planet X location for replayability.
Engaging logical deduction and theory publishing mechanics.
Seamless setup and immersive gameplay in 60-75 minutes.
Captures the thrill of scientific discovery and competition.
Key Specifications
| | |
| --- | --- |
| Material | Cardboard |
| Players needed | 1—4 |
| Time to play | 60-75 minutes |
| Theme | Strategy |
The Search for Planet X is a great and intellectually intriguing experience in solitary board games that depict scientific study. Like Detective: A Modern Crime Board Game, players of this game assume the roles of astronomers tasked with determining the truth behind the century-old mystery of Planet X. Players go on an unforgettable space adventure using a clever combination of deduction and app-based help.
The inventive companion app makes The Search for Planet X stand out; it produces random groupings of things and figures out where Planet X is based on certain established logic principles.
Astronomers use the app's data to run scans and present their findings at conferences when Earth makes another circle around the sun. Players note their finds on deduction sheets and post hypotheses to focus the hunt for Planet X. The software acts as a beacon, adding depth and intricacy to the game that keeps even solitary skygazers entertained.
In only 60–75 minutes, after setting up, players may dive headfirst into the epic hunt for Planet X. Those who like the thrill of discovery and the challenge of strategic deduction will find plenty to enjoy in this game. The Search for Planet X provides genuine astronomical research that captures the spirit of scientific inquiry with its thought-out mechanics and outstanding execution.
Our recommendation
Combining scientific inquiry with a creative app integration, The Search for Planet X is a victory in solitary board games. This is an essential purchase if you like the challenge of deduction and the excitement of discovery. Get your brain working, welcome the challenge of other players, and explore the solar system's mysterious farthest reaches in this exciting quest to locate Planet X. 
Pros
App-enhanced gameplay
Strategic deduction
High replay value
Immersive experience
Cons
Limited player interaction.
4. Turing Machine Board Game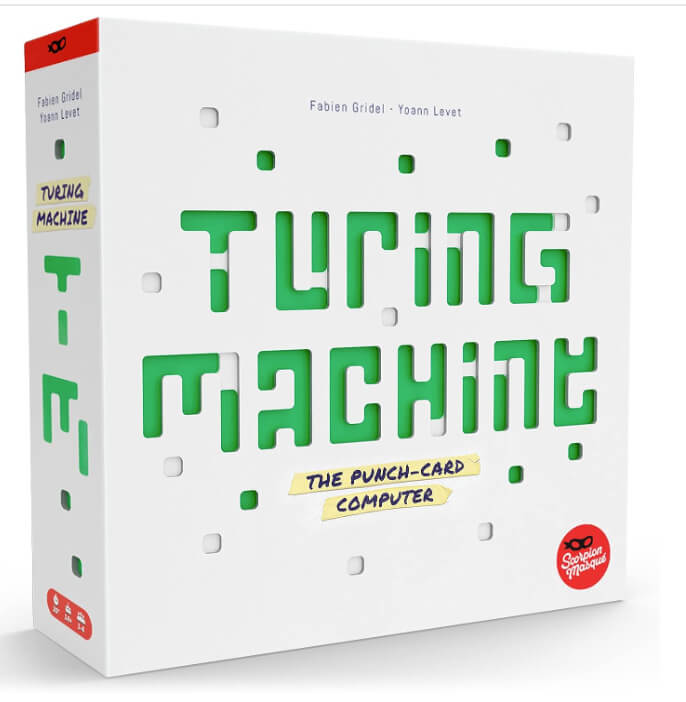 Test hypotheses with punch card codes and AI logic puzzles.
Deduce secret code through elimination or number relations.
Solo or team play, including original competitive mode.
Novel components like overlaying punch cards for a retro feel.
Over 7 million setup combinations for endless gameplay.
Key Specifications
| | |
| --- | --- |
| Material | Cardboard |
| Players needed | 1—4 |
| Time to play | 30-40 minutes |
| Theme | Math |
The Turing Machine Board Game is a remarkable classic in solitary board games that test your logical understanding. This game, like Sherlock Holmes Consulting Detective, puts players in the position of codebreakers, constructing a 3-digit code using punch cards and navigating through analogue artificial intelligence systems with various logic challenges. Each logic question you answer as you decipher the hidden code leads you closer to solving the mystery, giving you a compelling and intellectually demanding gaming experience.
The Turing Machine Board Game, whether played alone or in a group, allows you to face its brainteasers in various ways. Overlapping punch cards to test your code against AI machines evocative of the 1970s adds an immersive touch that takes gamers to a bygone age of computing.
The competitive version of the game allows for dramatic head-to-head combat, while collaborative play uses the strength of collaboration to break the code.
The setup is simple, and the gameplay is almost limitless, with over 7 million configuration possibilities accessible on the online issue generator website. With each game, the chance to push oneself with various new circumstances keeps the thrill alive.
The Turing Machine Board Game challenges your brain and provides a nostalgic and immersive experience that puzzle players and admirers of vintage computers will certainly enjoy.
Our recommendation
For single players and codebreakers looking for a fascinating and nostalgic experience, the Turing Machine Board Game is a must-have. Every instant of gaming is entertaining and gratifying because of its unique combination of logical reasoning and immersive components. The excitement of deducing the secret code and the unlimited options for setup variants will keep you enthralled for hours on end, whether you prefer to tackle the challenges alone or with companions. 
Pros
Engaging logic puzzles
Solo and team options
Retro components
High replayability
Cons
Limited physical components.
5. Maquis Board Game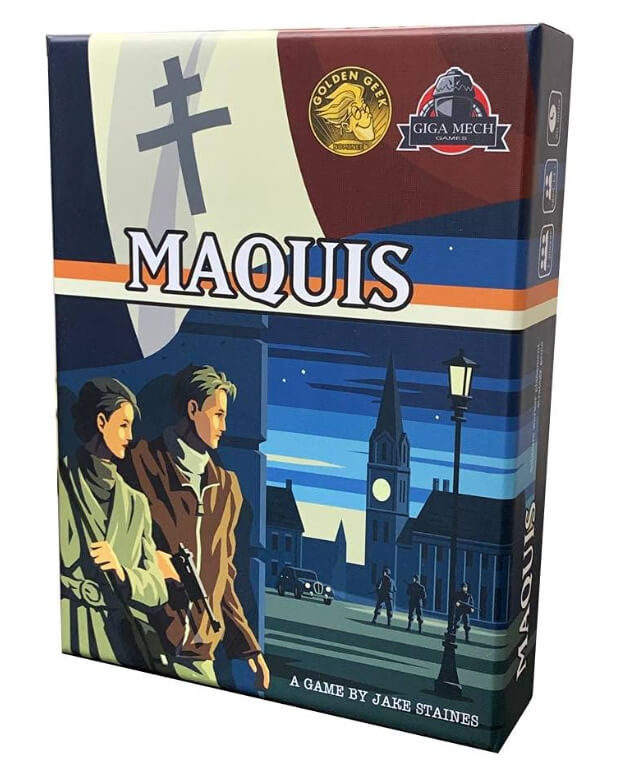 Solitaire worker-placement wargame set in occupied France.
Variable goals and intense gameplay for a thrilling resistance experience.
Avoid detection by Milice and Wehrmacht patrols.
Quick 20-minute playtime for intense sessions.
2nd edition includes new missions and resources for enhanced gameplay.
Key Specifications
| | |
| --- | --- |
| Material | Cardboard |
| Players needed | 1 |
| Time to play | 20 minutes |
| Theme | Wargame |
For solo board game enthusiasts seeking a thrilling wargaming experience, Maquis is a shining example of the genre's brilliance. Comparable to the acclaimed Hostage Negotiator, this solitaire worker-placement game places players in the heart of occupied France during la petite guerre. Your mission? Lead the resistance and throw off the oppressors' yoke to liberate your homeland. With its variable goals and intense gameplay, Maquis offers an engaging and immersive journey that transports players to the tumultuous days of resistance.
In Maquis, players strategically place resistance agents around town to achieve their objectives, such as sabotaging trains or publishing underground newspapers. However, the challenge lies in avoiding detection, as Milice collaborators and Wehrmacht soldiers patrol the area.
The tension builds as agents must return to the safe house before the day's end. Failure results in their arrest, never to be seen again. With approximately twenty-minute playtime, Maquis delivers quick, intense sessions that leave players on the edge of their seats.
The 2nd edition of the game adds even more excitement, including four new 3-star missions and additional resources to aid you in the fight for freedom. Setup is straightforward, and Maquis' variable goals ensure each playthrough offers a unique and thrilling experience.
With its rich theme, clever mechanics, and immersive gameplay, Maquis successfully captures the courage and determination of resistance fighters in their noble quest for liberty.
Our recommendation
Maquis is a must-have solo board game that encapsulates the spirit of resistance against tyranny. Its dynamic gameplay and the historical backdrop of occupied France make every decision feel crucial. Whether you're a seasoned wargamer or new to solo play, Maquis offers an accessible and engaging experience with just the right balance of challenge and reward. 
Pros
Engaging resistance theme
Quick gameplay
Variable goals add replayability
Immersive historical backdrop
Cons
Too many game objectives at the time
6. Mini Rogue Board Game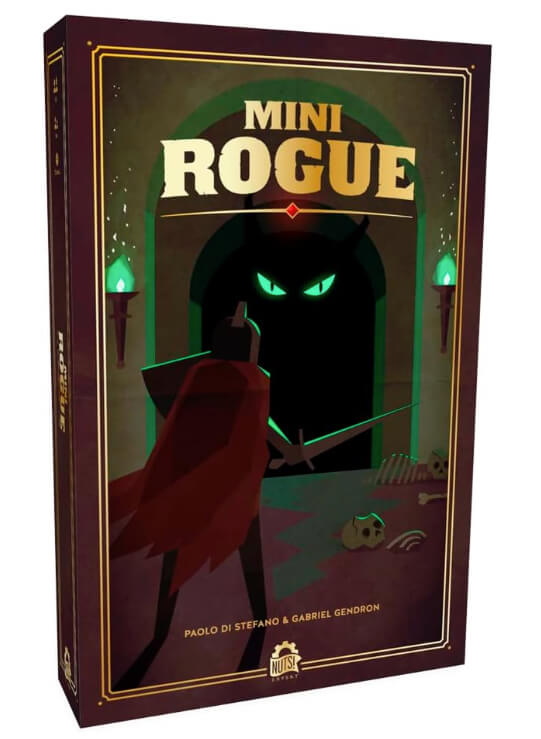 Roguelike-inspired dungeon adventure with monsters, treasures, and bosses.
Branching paths and random encounters for fresh gameplay.
Resource management and dice rolls resolve encounters.
Compact 30-minute gameplay for 1-2 players aged 12+.
Procedurally generated rooms ensure replayability.
Key Specifications
| | |
| --- | --- |
| Material | Cardboard |
| Players needed | 1-2 |
| Time to play | 30 minutes |
| Theme | Family |
Mini Rogue is an exciting and compelling option for solitary board game players looking for an adventure in the vein of roguelikes. Like the classic card game, this one also takes players into a dungeon teeming with creatures, traps, treasure, and legendary bosses. Your quest as a daring adventurer pursuing the Og's Blood, a renowned ruby jewel, will take you through many chambers with multiple outcomes.
The goal of Mini Rogue is to find all of the secrets hidden throughout the game's several rooms. You could have to avoid traps, fight creatures, search for wealth, negotiate with merchants, and more.
The game deftly mixes roguelike aspects, such as randomly generated chambers and enemies, to make each playtime unique. Your objective is to make it to the dungeon's end, battle the last Boss Monster, and emerge triumphant with the precious Og's Blood.
Mini Rogue's immersive experience may be enjoyed by 1 or 2 players aged 12 and above in about 30 minutes of playtime. The game's easy setup, and intuitive features make it enjoyable for players of all experience levels. Every run-through is a new and exciting adventure because of strategic decision-making, resource management, and random components.
Our recommendation
Mini Rogue provides solitary players with a fun experience combining the best roguelikes with board games. Unpredictable events and varied storylines keep gamers coming back for more. Mini Rogue's short playtime and little setup time make it ideal for a compelling solo adventure over a lunch break or between meetings. 
Pros
Engaging roguelike elements
Random and fresh gameplay
Quick setup and playtime
Accessible for solo adventurers
Cons
Not many choices are available
7. Call to Adventure Board Game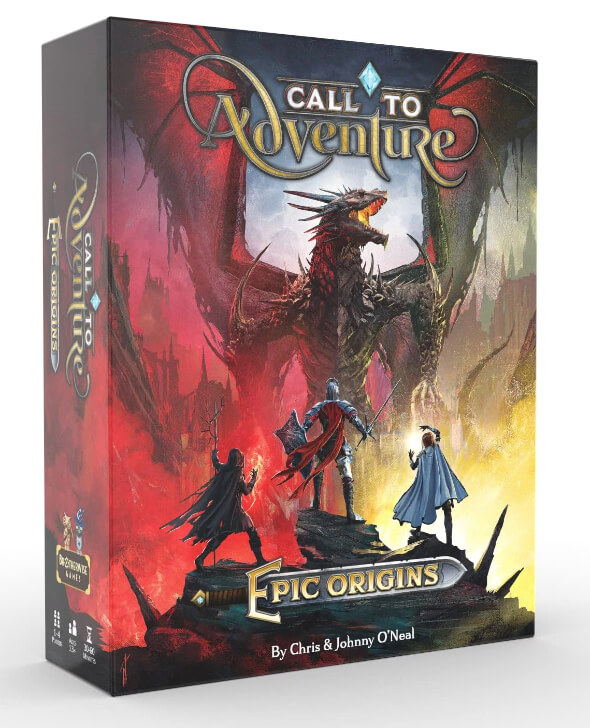 Classic fantasy races and iconic Class cards.
Double-sided Adversary cards for solo and co-op play.
100% compatibility with the original Call To Adventure.
Engaging character development and storytelling.
Multi-session Campaign mode with unlockable content.
Key Specifications
| | |
| --- | --- |
| Material | Cardboard |
| Players needed | 1—4 |
| Time to play | 30 minutes |
| Theme | Fantasy |
In the realm of solo board games that immerse players in epic fantasy quests, Call to Adventure stands tall as a captivating choice. Comparable to the beloved Gloomhaven, this game transports players to a world of classic fantasy races like Elves and Dwarves, offering 12 iconic Class cards. With Heritage cards that introduce rich lore and character backgrounds, players embark on a thrilling journey of character development and storytelling.
Call to Adventure's gameplay centres around constructing a character's story by acquiring traits, facing challenges, and shaping their destiny. With double-sided Adversary cards adding depth to solo and cooperative play, players must overcome obstacles and emerge victorious in their quests.
The game's seamless compatibility with the original Call To Adventure adds to its allure, allowing players to enrich their storytelling experience further.
Call to Adventure is designed to stand independently and introduces a multi-session Campaign mode with unlockable content, providing an immersive and progressive narrative.
Setup is swift, and the game's mechanics are accessible for solo players seeking a rich narrative experience. With an engaging playtime, Call to Adventure caters to casual adventurers and avid fantasy fans, delivering a fantastical journey of heroism, challenges, and triumphs.
Our recommendation
Call to Adventure is a gem for solo board game enthusiasts seeking a thrilling, narrative-rich experience. With its classic fantasy races, iconic classes, and customizable character arcs, the game beckons players to forge their path in a vibrant fantasy world. The double-sided Adversary cards add depth to the gameplay, ensuring both solo and cooperative adventures are equally engaging. 
Pros
Rich fantasy lore
Depth in solo play
Seamless compatibility
Immersive character storytelling
8. Wreckland Run Board Game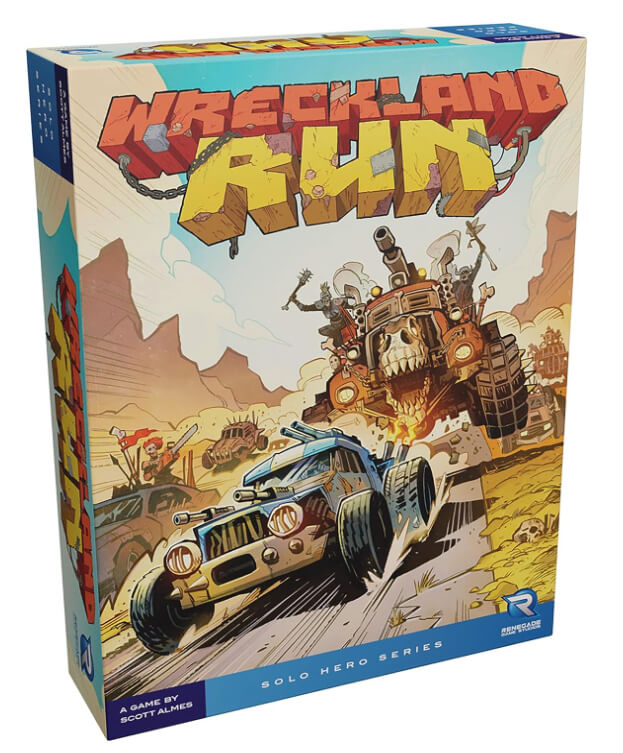 Post-apocalyptic solo campaign with high-stakes challenges.
Weld weapons onto your vehicle to fend off adversaries.
7 chapters of immersive and evolving gameplay.
Smooth setup and 30–45-minute sessions.
Strategic decision-making in a treacherous wasteland.
Key Specifications
| | |
| --- | --- |
| Material | Cardboard |
| Players needed | 1 |
| Time to play | 30-45 minutes |
| Theme | Heo |
Wreckland Run is an intense solo board game that delivers heart-pounding action and high-stakes challenges. Comparable to Renegade Games' popular Solo Hero Series, including Warp's Edge and Proving Grounds, this game immerses players in a post-apocalyptic wasteland teeming with marauders and mercenaries. The wrecklands' solitary road length becomes your deadly battlefield as you begin on a desperate quest to deliver stolen supplies to vulnerable outposts.
Wreckland Run's gameplay evolves across a thrilling 7-chapter campaign, providing a lone player with an immersive and growing experience. Players must carefully choose a driver and vehicle throughout the campaign.
Each chapter is divided into three rounds, including wreckage and run stages, to provide depth and strategic decision-making. As you explore the wasteland, you must solder perilous weaponry onto your cherished vehicle to fight off enemies and protect your valuable cargo.
Wreckland Run is a solo campaign game for ages 10 and above, with each session lasting 30-45 minutes. The game's mechanics keep players interested and on the edge of their seats throughout the run, and the setup is seamless.
As you go through the wreckage, every shot counts, and every choice has far-reaching effects. Wreckland Run immerses lone players in a high-octane journey thanks to its adrenaline-fueled gameplay, emotive concept, and dynamic storyline.
Our recommendation
Wreckland Run is a must-have for solitary board game players looking for a fast-paced, narrative-driven experience. The solo campaign model allows for a fascinating quest of survival and ingenuity in which every decision determines your destiny. This game guarantees players are thoroughly immersed in the post-apocalyptic scenario, racing against marauders to deliver essential supplies over numerous chapters. 
Pros
Adrenaline-fueled action
Captivating solo campaign
Evocative post-apocalyptic theme
Dynamic storytelling
Cons
Components aren't durable 
9. Final Girl: Wave 2: Into the Void Board Game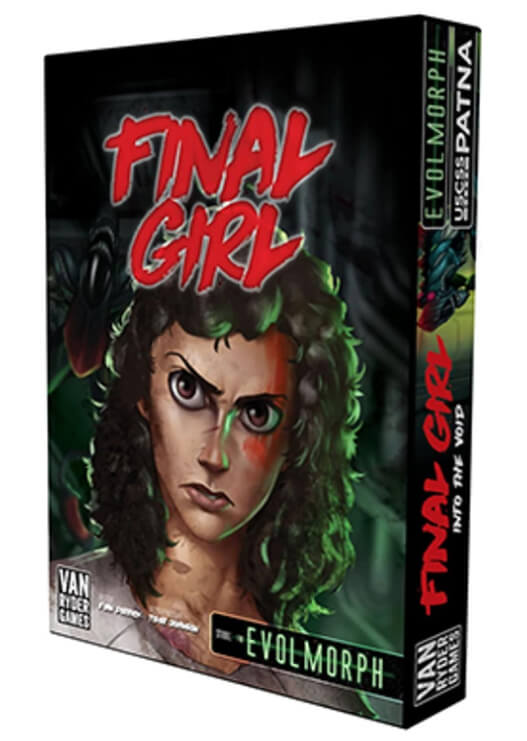 Evolving Evomorph hunts in space.
New spaceship mechanics with keycards.
Double-sided box covers with stunning art.
Magnetically attached and removable covers.
Intense solo space survival thriller.
Key Specifications
| | |
| --- | --- |
| Material | Cardboard |
| Players needed | 1 |
| Time to play | 30 minutes |
| Theme | Horror |
Among so many options of solo board games that deliver nail-biting suspense and deadly encounters, Final Girl: Wave 2: Into the Void emerges as a captivating choice. Comparable to the heart-pounding experience of One Deck Dungeon, this game takes players on a chilling space adventure where they must face advanced enemies and navigate through new mechanics. As you are hunted in space, the Evomorph will evolve and disappear into ventilation shafts, striking when least expected or when you strategically plan a well-laid ambush.
Final Girl: Wave 2 introduces innovative design elements, such as magnetically attached double-sided box covers featuring beautifully illustrated artwork on both fronts and backs.
The USCSS KONRAD spaceship presents new mechanics with 'keycards' that grant access to different ship areas, providing players with multiple options to confront their foes. Will you engage in classic face-to-face combat, orchestrate a daring self-destruct, and escape, or attempt to airlock the killer into the void?
Final Girl: Wave 2 is designed for solo play and offers an immersive and intense space survival thriller. Setup is swift, and the game's new mechanics add depth and strategic complexity to each encounter.
With innovative design and stunning artwork, Final Girl: Wave 2 immerses players in an unforgettable cinematic experience, evoking feelings of tension, adrenaline, and the thrill of survival.
Our recommendation
Final Girl: Wave 2 – Into the Void is a gripping addition to the Final Girl series, immersing solo players in a spine-chilling space adventure. With its advanced enemies, evolving Evomorph, and innovative mechanics, the game delivers an unparalleled survival experience. The beautiful artwork and magnetic box cover add a unique touch to the gameplay. 
Pros
Nail-biting suspense
Innovative mechanics
Beautiful artwork
Cinematic solo experience
10. Legacy of Yu Board Game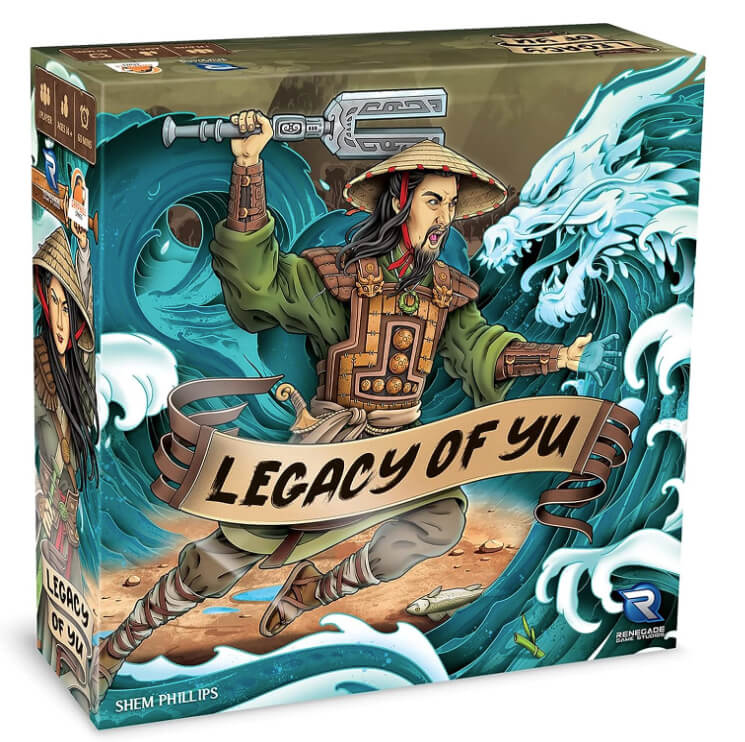 Solo-only, nonlinear campaign experience.
Play as legendary hero Yu the Great.
Build canals and defend against barbarian tribes.
Dynamic storytelling and evolving gameplay.
Fully resettable for endless replayability.
Key Specifications
| | |
| --- | --- |
| Material | Cardboard |
| Players needed | 1 |
| Time to play | 60 minutes |
| Theme | Ancient |
Step into the legendary hero's shoes and embark on an enthralling journey with Legacy of Yu, a solo-only campaign game. As the heroic figure of Yu the Great from the Xia Dynasty, players are tasked with building canals to prevent deadly floods and defend their village against barbarian tribes.
Reminiscent of the dynamic storytelling in other solo board games like Hostage Negotiator, this nonlinear campaign features a fully resettable system that adapts to your progress. Whether you triumph or face setbacks, each game contributes to an ever-evolving narrative, building upon your achievements and adding new gameplay elements.
In Legacy of Yu, players take on the role of Yu the Great, learning from his predecessors' failures and devising ingenious ways to channel the river's waters. The aim is to complete all six Canal sections before it's too late. The campaign's self-balancing system ensures the game remains challenging, providing a fresh experience with every playthrough.
The Story Book and Story Deck drive the engaging narrative, filled with tales of triumph, sacrifice, and perseverance. With a playing time of 60 minutes, the game offers a deeply immersive solo adventure that captivates and challenges players from start to finish.
Our recommendation
Legacy of Yu delivers a compelling and immersive solo campaign experience, inviting players to embrace the hero's journey as they shape the fate of ancient China. The nonlinear and fully resettable campaign system offers an ever-changing narrative, ensuring replayability and unpredictability in each game. As you build canals and defend your village against threats, the game captures the essence of triumph and perseverance, making it a delightful addition to any solo board game collection. 
Pros
Engaging solo campaign.
Evolving narrative and challenges.
No destruction or modification.
High replayability.
[Buyer's Guide] Factors to Consider Before Buying the Best Solo Board Games
Solo board games offer a thrilling and immersive gaming experience, making them an ideal choice for those seeking entertainment in solitude. However, with many options available in the market, selecting the best solo board game can be overwhelming.
To make an informed decision and find the perfect match for your preferences, consider the following key factors:
1. Solo Play Mechanism
Pay attention to the solo play mechanism of the game. Some solo board games feature an AI opponent, while others may offer unique puzzles and challenges for solo play. Look for games that provide an engaging and dynamic experience without needing other players.
2. Replayability
Ensure the game offers high replayability value. Look for campaigns with branching storylines, randomized setups, or dynamic scenarios that guarantee a fresh and exciting experience each time you play. A game with multiple paths to victory and unforeseen challenges will keep you returning for more.
3. Complexity Level
Consider your preferred complexity level. Solo board games come in various difficulty levels, from casual and accessible to highly strategic and challenging. Find a game that aligns with your skill level and desired level of engagement.
4. Theme and Setting
Choose a theme that resonates with your interests. Whether you enjoy fantasy adventures, historical simulations, sci-fi exploration, or mystery-solving, selecting a game with a captivating theme will enhance your overall gaming experience.
5. Components and Artwork
Evaluate the quality of components and artwork. A visually appealing game with well-crafted components adds to the immersive experience. Additionally, components that are easy to handle and set up enhance the overall enjoyment of the solo gaming session.
6. Playing Time
Consider the average playing time of the game. Some solo board games offer quick and satisfying sessions that can be completed within 30 minutes, while others provide more in-depth gameplay that may last several hours. Select a game that fits well into your available gaming time.
7. Community and Expansions
Check if the game has an active community of solo players. Engaging with fellow solo gamers can provide valuable insights and strategies. Additionally, look at the availability of expansions, as they can extend the game's longevity and introduce new challenges.
Frequently Asked Questions
What are some recommended solo board games for beginners?
For newcomers to solo gaming, accessible options like "Onirim" and "The Search for Planet X" offer engaging experiences without overwhelming complexity. These games provide clear rules, shorter playing times, and enjoyable challenges to ease players into the solo board game world.
How do solo board games differ from multiplayer games?
Solo board games are designed to be played alone, eliminating the need for other players. They often feature AI opponents, puzzles, or scenarios crafted for solo enjoyment. Unlike multiplayer games, solo board games focus on providing a compelling experience for solo players without sacrificing depth or excitement.
Can solo board games be replayed multiple times?
Many solo board games offer high replayability due to randomized setups, branching storylines, or varying challenges. Games like "Legacy of Yu" and "Mini Rogue" introduce dynamic elements that ensure each playthrough offers a fresh and unique experience, allowing players to enjoy them repeatedly.
How do I find the best thematic solo board games?
To discover thematic solo board games aligned with your interests, explore genres you enjoy, such as fantasy, sci-fi, or historical settings. Look for games that immerse you in captivating stories and adventures. Reviews, online forums, and board game communities are excellent resources for finding recommendations from fellow enthusiasts.
Are there solo board game expansions available for popular titles?
Yes, many popular solo board games offer expansions that enrich the gameplay and introduce new challenges. Titles like "Call to Adventure" and "Final Girl: Wave 2: Into the Void" have expansions that expand on the original experience, providing solo players with additional content to enhance their gaming sessions.
Conclusion
Players looking for tough and engaging experiences on their own will find that the world of solitary board games provides a varied and exciting terrain. Solo board games cater to various tastes and skill levels by providing diverse gameplay choices.
These possibilities vary from cooperative adventures to competitive situations. It doesn't matter whether you're a novice eager to explore the world of solo gaming or a seasoned enthusiast searching for new experiences; there's a board game that's tailor-made to your preferences that focuses on playing by yourself.
The strategic intricacies of "Turing Machine" and the engaging tale of "Legacy of Yu" are two examples of high-quality solo board games that provide players of any age with many hours of fun and excitement.