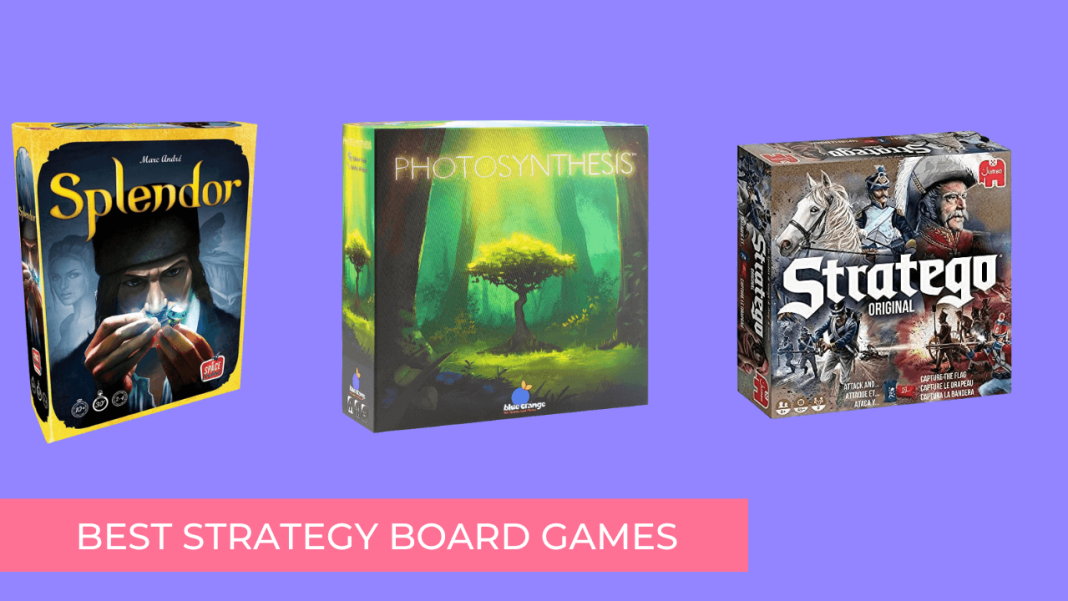 If you're searching for the perfect way to bond with friends and family while having a blast, look no further than the enthralling world of board games! From kids to adults, these timeless classics and modern marvels offer an unrivalled opportunity to exercise your strategic prowess, engage in friendly competition, and create cherished memories together.
Strategy board games hold a special place in the hearts of kids and adults alike because they require more than just luck; they demand cunning tactics, critical thinking, and creative problem-solving. Players get to immerse themselves in captivating narratives, whether they're conquering kingdoms, exploring fantastical realms, or venturing into the depths of space.
This article will bring the joy and excitement of strategy board games to the forefront, highlighting how they offer a delightful escape from the digital realm and provide a face-to-face, interactive adventure. So, without further ado, here are ten strategy board games that will raise the bar too high!
Our Top Picks
| | | |
| --- | --- | --- |
| Top Pick | Budget Pick | Runner Up |
| Plunder Board Game | Battleship Planes Board Game | Villainous Board Game |
| | | |
| Plunder takes the top spot as our favorite strategy board game due to its captivating theme and engaging gameplay. Commanding a fleet as swashbuckling adventurers, players conquer islands, build ships, and wage war against rival captains. | Battleship Planes is the perfect budget pick for those looking for an affordable yet action-packed strategy board game. With a thrilling twist on the classic battleship game, this edition introduces aeroplanes, adding an extra layer of strategy and excitement. | Villainous secures a spot as our runner-up due to its innovative and immersive gameplay that lets players step into the shoes of iconic Disney villains. Asymmetric gameplay, unique objectives, and beloved characters like Maleficent and Jafar create a captivating gaming experience for Disney fans and families. |
How We Tested Best Strategy Board Games?
We know you're itching to discover the most exhilarating strategy board games, but hold on to your dice! Before we reveal our top picks, let's give you a sneak peek into our rigorous testing process. Here are the three critical factors that every strategy board game had to endure in our epic testing battleground:
1. Strategic Depth and Complexity
A great strategy board game must offer a healthy dose of brain-teasing challenges and opportunities for tactical brilliance. We evaluated games based on the depth of their mechanics and the complexity of decision-making required.
The best games balanced accessibility for players of all ages and strategic depth that keeps seasoned gamers engaged. From managing resources to planning long-term strategies, we hunted for games that made us put on our thinking caps and unleash our inner generals and masterminds!
2. Engaging Gameplay and Replayability
The key to a top-tier strategy board game is the ability to keep players coming back for more, begging for just one more round. We examined how captivating the gameplay was and whether the Game held up after multiple playthroughs.
Variety in strategies, random elements that kept us on our toes, and the thrill of uncertainty were essential ingredients. A great game should never get stale, and we were on the lookout for those that offered an evergreen experience, leaving us eager to hit the table repeatedly.
3. Social Interaction and Fun-Factor
Gaming is more than just moving pieces on a board; it's about building unforgettable memories with friends and family. We delved into how well each Game fostered social interaction, encouraged banter, and elicited laughter.
Cooperative games brought us together, while competitive ones sparked friendly rivalries. We scrutinized the excitement level – did it get our adrenaline pumping or leave us yawning?
The ultimate strategy board games had us on the edge of our seats, forming alliances, and plotting against our opponents, all while sharing moments of camaraderie that made the gaming experience truly special.
Comparison Chart 
Image
Product
Detail
Price

Plunder Board Game

Lost Boy
6 Players
Helming your battleship through Caribbean Seas

Price

Battleship Planes Board Game

Hasbro Gaming
2 Players
Sink ships and crash planes

Price

Villainous Board Game

Wonder Forge
6 Players
Find the villain

Price

Stratego Original Board Game

Jumbo
2 Players
Capture the opponent's flag

Price

Ark Nova Card Drafting Board Game

Capstone Games
1-4 Players
5 Core actions to choose from

Price

Terraforming Mars Board Game

Indie Board and Cards
2-5 Players
Over 200 projects to compete

Price

Partners Board Game

Partners
4 Players
The first duo to get all their team's pawns wins

Price

Splendor Board Game

Space Cowboys
4 Players
Variable setups for playing replayability

Price

The Quest for El Dorado Board Game

Ravensburger
2-4 Players
More than 100,000 layouts

Price

Photosynthesis Board Game

Blue Orange
4 Players
Exploring the life-cycle of trees

Price
List of 10 Best Solo Board Games
1. Plunder Board Game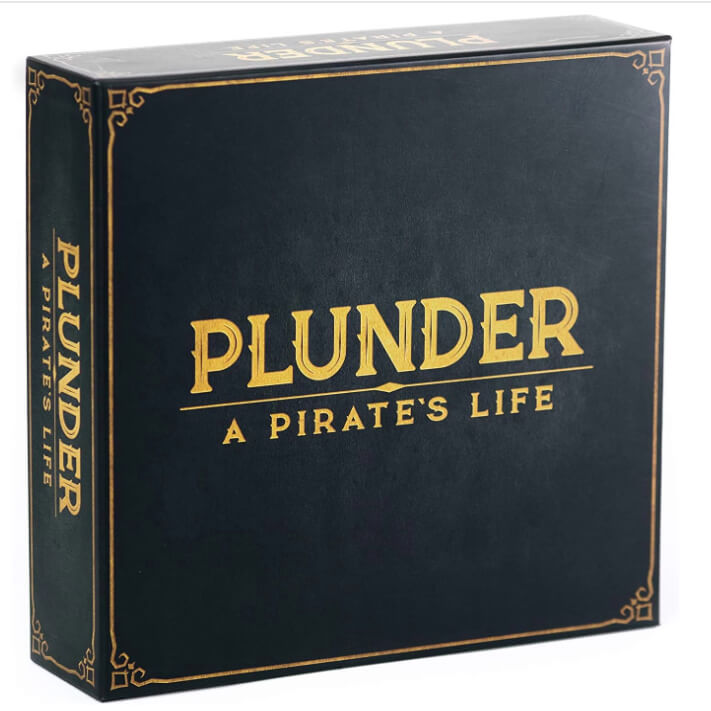 Thrilling Caribbean adventure, conquering islands, and waging epic battles on the high seas.
Intuitive gameplay for new players, grasp rules quickly and helm your battleship confidently.
High replayability with ever-changing map configurations and encouragement to explore new strategies.
Suitable for 2 to 6 players, inclusive team play option, and no player elimination.
Average 20-minute playtime, quick setup, immersive thematic elements, and engaging for all.
Key Specifications
| | |
| --- | --- |
| Material | Cardboard |
| Players needed | 6 |
| Time to play | 20 minutes per player |
| Theme | Pirate |
If you're itching for a thrilling swashbuckling adventure on the high seas, Plunder Board Game is ready to sail with you! As a strategy game, it invites brave swashbucklers to command their fleets, conquer islands for valuable resources, and wage epic wars against rival captains in a quest to rule the seas. But how does Plunder stack against the seasoned strategy player board game, Settlers of Catan? While Catan boasts its iconic resource trading and settlement building, Plunder shines with its captivating thematic gameplay and intuitive rules that welcome beginners and veteran gamers.
Plunder Board Game is about embarking on a thrilling Caribbean adventure, where players lead their fleets to conquer islands and gather precious resources. The gameplay is thematic and intuitive, making it easy for newcomers to grasp the rules swiftly. You'll find yourself helming your battleship with confidence and zeal within no time.
The game board's high replayability factor adds to the excitement, as it's created by combining six different double-sided ocean tiles, resulting in a unique map configuration every time you play. This ever-changing landscape encourages you to explore new strategies and keeps you on your toes with each new expedition.
Designed for 2 to 6 players, Plunder also offers an engaging team play option. The absence of player elimination ensures every captain fights to the end, making it an inclusive and exciting experience for all.
The average playtime of 20 minutes per player strikes a perfect balance between quick, action-packed rounds and in-depth strategic planning. Set up is a breeze, and the thematic elements add to the immersive experience, making you feel like a pirate captain ruling the Caribbean.
Our recommendation
Plunder Board Game is an absolute treasure for gaming enthusiasts of all levels. Its thematic and intuitive gameplay and high replayability ensure countless hours of fun and excitement. Whether you're a seasoned gamer or new to the world of strategy board games, Plunder's engaging gameplay, easy-to-learn rules, and team play option make it a standout choice for a thrilling game night with friends and family. 
Pros
Immersive and thematic.
Quick setup and playtime.
Inclusive for all players.
High replayability.
2. Battleship Planes Board Game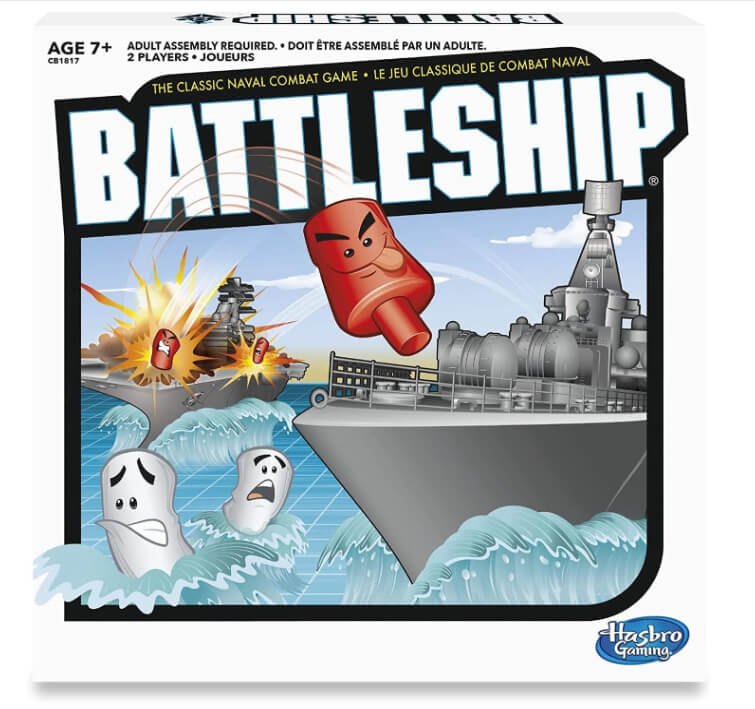 Engaging gameplay with aeroplanes for epic strategic battles.
A unique combination of naval and aerial warfare tactics.
Play anytime, anywhere for on-the-go excitement.
Fun family entertainment and great for classrooms.
Organized ship, plane, and peg storage on the ocean grid.
Key Specifications
| | |
| --- | --- |
| Material | Plastic |
| Players needed | 2 |
| Time to play | 30 minutes |
| Theme | Strategy |
Battleship Planes Board Game, an exciting variation on the traditional Battleship game, will take you to new heights. This version adds aircraft to the classic ships, providing fantastic strategic gameplay and dramatic battles on the high seas and in the sky. But how do Battleship Planes compare to another famous strategic board game, Risk? While Risk concentrates on global dominance via armies and territory, Battleship aircraft combines maritime and aerial combat, enabling players to crash enemy aircraft and destroy ships to win.
Battleship Planes Board Game is an exciting and new spin on the traditional battleship game. Players participate in compelling strategic gameplay with epic conflicts on both land and air when aircraft are added to the mix. The goal is to destroy enemy ships and crash their aircraft, providing a dynamic twist that keeps your adrenaline racing and your intellect engaged.
The Game comes with two portable combat cases, making it an ideal on-the-go entertainment option for gamers who like diving into quick action anywhere, at any time. Battleship, a childhood classic, receives an exciting makeover, and both children and adults may play this fascinating Game together, creating family fun and friendly rivalries.
Battleship Planes is simple to learn and play because of its simple fundamentals. Each player has their ocean grid, where they may conceal their fleet and plot their assaults. The Game offers seamless gaming and little setup time by using pegs to register hits and misses.
It's an excellent strategy game that requires players to think critically and outthink their opponents. The ease of storing ships, planes, and pegs on the ocean grid keeps the Game neat and structured.
Our recommendation
With the inclusion of aircraft and compelling strategic action, Battleship Planes Board Game elevates the traditional Battleship game to new heights. It adds excitement and complexity to the popular idea by allowing you to crash opposing aircraft and destroy ships. The Game's portable nature makes it an excellent alternative for on-the-go gaming, promising exciting experiences in the air and at sea. 
Pros
Engaging and strategic.
Unique gameplay twist.
Portable and convenient.
Fun for all ages.
3. Villainous Board Game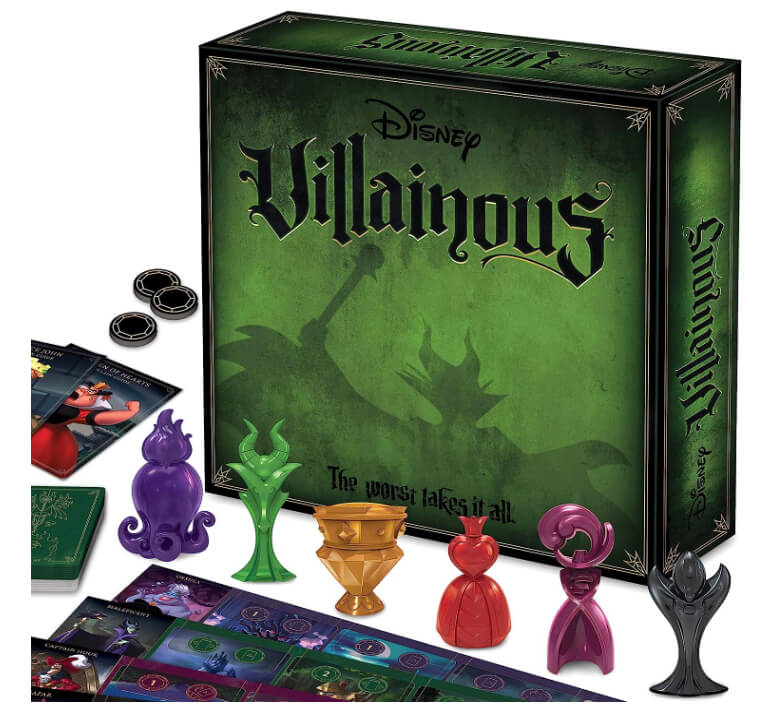 Asymmetric gameplay with 6 iconic Disney villains and their sinister objectives.
Interact with beloved Disney protagonists like Aladdin and Ariel to disrupt opponents.
Easy to learn with clear instructions and individual guides for each villain.
Compatibility with other Villainous games for expanded gameplay options.
Winner of the prestigious 2019 'Game of the Year Award at the TOTY Awards.
Key Specifications
| | |
| --- | --- |
| Material | Cardstock |
| Players needed | 6 |
| Time to play | 30 minutes |
| Theme | Character |
The Villainous Board Game will transport you to the enchanted world of Disney Villains. But how does Villainous compare to Betrayal at Baldur's Gate, a popular strategy board game? While Betrayal at Baldur's Gate features a dark fantasy setting filled with treacherous quests and hidden alliances, Villainous allows players to immerse themselves in the evil schemes of Captain Hook, Maleficent, Jafar, Ursula, the Queen of Hearts, and Prince John. Prepare to immerse yourself in the universe of Disney Villains and unleash your inner evil!
Disney Villainous is a delight for Disney fans and families, offering a captivating spin on traditional board games. The Game allows players to assume the roles of their beloved Disney villains, each with a unique guide containing strategies and suggestions for achieving their evil goals.
The Game's asymmetrical design ensures that each encounter is unique and exhilarating. Players get to indulge in their nefarious desires and confront revered Disney protagonists like Aladdin, Peter Pan, and Ariel, who can foil their evil schemes.
Due to the explicit instructions and distinct tutorials for each adversary, the Game is simple to learn. Villainous accommodates players of all ages and skill levels, regardless of whether they are seasoned strategy gamers or Disney fans.
The Game can be played independently or with other Villainous titles, expanding the possibilities and replayability. With the esteemed 'Game of the Year award from the 2019 TOTY Awards, Disney Villainous has demonstrated its excellence and appeal, making it an ideal gift for Disney fans and a must-have for any game night.
Our recommendation
Disney Villainous is an enchanting journey into the evil minds of iconic Disney villains, providing a strategic and engaging gaming experience. It ensures that players can fully immerse themselves in the nefarious plots of their chosen antagonists by providing plain instructions and individual guidance.
Pros
Captivating and thematic.
Appeals to Disney fans.
Suitable for all ages.
High replayability.
4. Stratego Original Board Game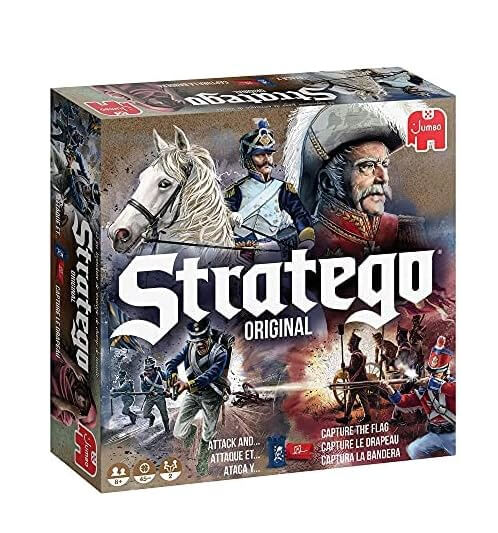 A war between Redcoats and Bluecoats with hidden ranks, spies, and deadly bombs.
Thrilling strategy and deception gameplay for capturing the enemy's flag.
Clear setup and engaging gameplay for a dynamic and immersive experience.
No luck is involved; every move determines victory or defeat.
Test your mettle against friends and family with cunning tactics and bluffing.
Key Specifications
| | |
| --- | --- |
| Material | Cardstock |
| Players needed | 2 |
| Time to play | 20 minutes |
| Theme | Wargame |
With the original Stratego board game, you may immerse yourself in a world of strategy and deceit. But how does Stratego Original stack up against Chess, another well-known strategic board game? Stratego Original takes the classic strategy game of Chess and adds the excitement of secret knowledge and bluffing to the mix. With 40 pieces to use in the Game, including an alluring spy and lethal explosives, players must outwit their opponents in every round. Get ready to unleash your inner combat strategist and get the soldiers pumped up!
The original Stratego board game is an exciting mental and tactical challenge that puts players in a conflict that requires strategic thinking and planning. The game aims to move an army of 40 pieces across the board to capture the opposing flag. But the real difficulty comes from the concealed ranks of these pieces, which requires bluffing and deduction with every action.
The Game puts players on their toes, as they can never be sure of the real power of their opponent's thanks to the alluring spy who can circumvent standard regulations and the devastating explosives that destroy higher-ranking opponents.
The setup is simple, yet the gameplay is interesting, letting players feel like a master strategist for the Game's duration. Each player takes it, in turn, to either move their pieces or attack the enemy's, putting their mettle to the test in a friendly competition.
Since no element of chance is involved, strategy and outthinking your opponent will determine the winner. Players of all skill levels will find Stratego Original's blend of stealth, long-term planning, bluffs, and double bluffs exciting and engaging.
Our recommendation
The original Stratego board game is a fascinating, intriguing, and demanding foray into combat strategy and deception. The Game's various playable pieces and innovative concealed information features allow for many strategic permutations and playthroughs. 
Pros
Captivating and strategic.
Hidden information adds depth.
Engaging for all ages.
Dynamic and replayable.
5. Ark Nova Card Drafting Board Game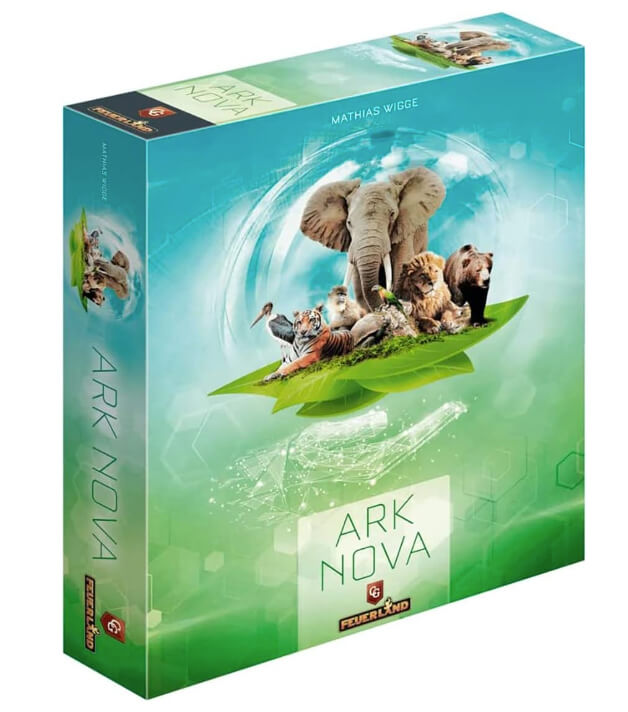 Plan and design a modern, scientifically managed zoo for a captivating zoological adventure.
Utilize 255 cards featuring animals, specialists, unique enclosures, and conservation projects.
Strategic gameplay to increase the zoo's appeal and scientific reputation while collecting conservation points.
Five action cards for managing gameplay with diverse options and decisions.
High replayability and rich components for an engaging and interwoven gaming experience.
Key Specifications
| | |
| --- | --- |
| Material | Cardboard |
| Players needed | 1-4 |
| Time to play | 30 minutes |
| Theme | Animal |
Ark Nova Card Drafting Board Game will take you on a zoological journey unlike any other! Planning and designing a contemporary, scientifically managed zoo is to possess the most successful zoological enterprise. But how does Ark Nova compare to the well-known strategic board game Terraforming Mars? While Terraforming Mars is concerned with altering a barren planet, Ark Nova is concerned with bringing the world of zoos and animal protection to life.
The Ark Nova Card Drafting Board Game transports players to the fascinating realm of zoo administration and conservation initiatives. The foundation of the game centres around the planning and building of a contemporary, scientifically controlled zoo, in which players must create cages and house animals and support conservation efforts all around the globe.
Players must carefully use the 255 cards representing animals, experts, unusual enclosures, and conservation projects, each with unique skills, to boost their zoos' attractiveness and scientific reputation and gain conservation points.
Each player receives a deck of action cards to control their gaming, giving them many alternatives and decisions. The five action cards—Build, Animals, Cards, Association, and Sponsors—provide various methods for implementing ideas and improving strategy.
Ark Nova offers a spectacular gaming experience with great replayability and numerous components, assuring that players will return to the table repeatedly. Mathias Wigge's passion for the concept and sophisticated game design comes through, providing a compelling and interconnected gaming experience.
Our recommendation
Ark Nova Card Drafting Board Game offers a stimulating and gratifying experience for lovers of zoo management and strategy games. Players may develop their ideal zoological enterprises while participating in significant conservation initiatives thanks to the Game's wide card pool and strategic complexity. 
Pros
Captivating and immersive.
Extensive card pool.
Meaningful conservation efforts.
Strategic depth.
Cons
Limited player interaction.
6. Terraforming Mars Board Game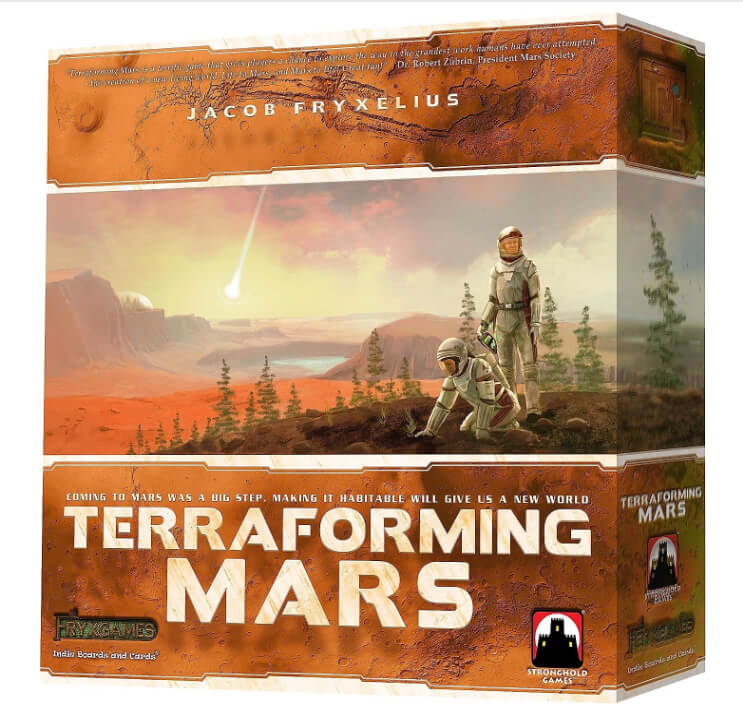 Futuristic terraforming mission on Mars with competing corporations and commendable achievements.
Acquire unique project cards for introducing life, building cities, and transforming the Red Planet.
Cooperative and competitive gameplay for strategic city, ocean, and greenery placements.
Over 200 projects and multiple ways to score victory points for high replayability.
Immersive and challenging experience blending science fiction, strategy, and space exploration.
Key Specifications
| | |
| --- | --- |
| Material | Cardboard |
| Players needed | 2-5 |
| Time to play | 20 minutes |
| Theme | Animal |
Terraforming Mars is a board game that explores the futuristic world of terraforming. In the 2400s, humanity embarks on a noble mission to make the Red Planet habitable, and you take on the role of one of the multinational corporations spearheading this transformation. However, how does Terraforming Mars compare to the popular strategy board game Catan? While Catan is well-known for its resource trading and settlement-building mechanisms, Terraforming Mars takes players on an epic interstellar voyage in which they obtain distinctive project cards to terraform the Martian landscape.
Terraforming Mars is a highly engaging and immersive strategy board game that transports players to a future in which humanity is attempting to make Mars habitable. As a competing corporation, you acquire distinct project cards that depict various facets of the terraforming process, such as introducing plant life, constructing communities, and exploiting greenhouse gas industries.
The Game's mechanisms involve cooperation and competition, as players collaborate to terraform Mars while competing for the most victory points through commendable accomplishments and human infrastructure development.
With more than 200 unique projects to complete and multiple methods to earn victory points, Terraforming Mars offers a high degree of replayability and strategic depth. Each decision made throughout the Game can have far-reaching repercussions, making each playthrough a unique and thrilling experience.
The Game supports 1 to 5 players aged 12 and up, allowing various gameplay options. Due to the numerous components and project cards, setup may take a little longer, but once the Game begins, players are immersed in an exhilarating race to reshape the Red Planet.
Our recommendation
Terraforming Mars is an essential addition to the collection of any fan of strategy board games. Its merger of science fiction, strategy, and competition offers a captivating and challenging experience for players desiring interstellar adventures. With a vast selection of project cards and the opportunity to influence the Martian terrain, each game session feels like an epic voyage of discovery and innovation. 
Pros
Engaging and immersive.
A vast array of project cards.
Strategic depth and replayability.
Cooperative and competitive elements.
7. Partners Board Game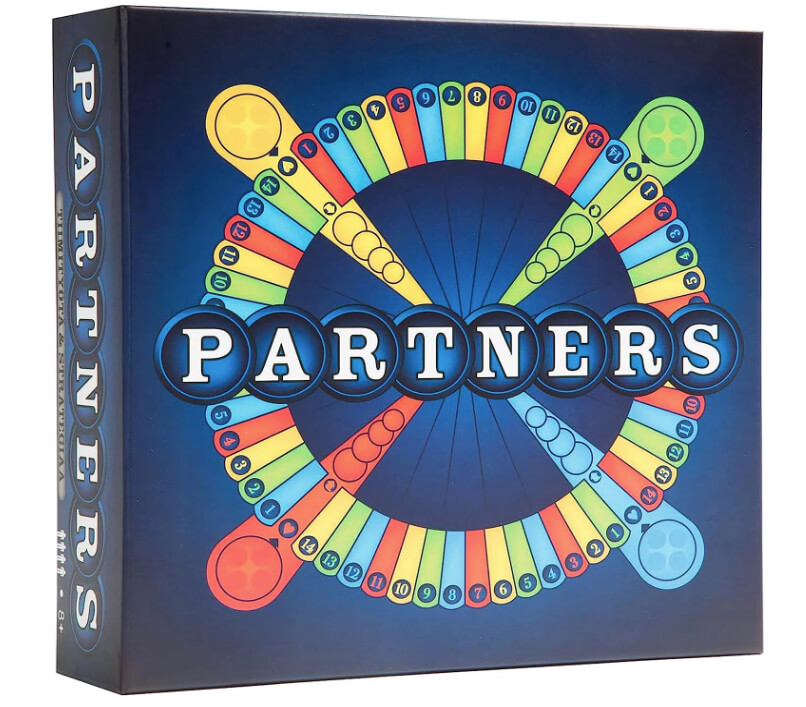 Team-based competitive gameplay with strategic card usage and pawn racing.
Embrace sabotage as a team sport with twists, turns, and unexpected moments.
Swap cards with your partner for crucial and strategic decision-making.
Easy to learn in under 7 minutes, lasting 30-45 minutes per Game.
1st USA Edition of Denmark's #1 Best Selling Board Game.
Key Specifications
| | |
| --- | --- |
| Material | Cardboard |
| Players needed | 4 |
| Time to play | 30-45 minutes |
| Theme | Racing |
You may prepare for a competitive and strategic voyage with the Partners Board Game. The perfect plan, a little luck, and the ability to cooperate smoothly with your partner will decide success as you race your colored pawns across the board. But how does Partners compare to Codenames, another team-based strategy board game? While Codenames depend on sophisticated word connections and code-cracking, Partners is a fast-paced race in which players utilize cards to guide their pawns to the finish line. Partners offer an adrenaline-filled gameplay with twists and turns that will keep players on their toes until the very end, with the extra twist of being able to block, exchange, and knock opponents' pawns back home.
Partners Board Game is an engaging and fast-paced team strategy and sabotage experience. In teams of two, players must work together to race their colored pawns across the board and into their finishing zone. The Game is played by trading cards with your partner at the start of each round, which creates a strategic decision-making process that grows more important as the Game develops.
The Game is loaded with exhilarating moments and surprising turns that keep the adrenaline levels high throughout, with the power to block, exchange, and knock the opponent's pawns back home.
Partners' rules are simple to learn and take less than 7 minutes to absorb, making it an excellent option for families and adults. The Game's setup is easy, and each Lasts 30-45 minutes, allowing participants to enjoy numerous exhilarating rounds.
Partners blend the simplicity of learning with a high degree of engagement, providing hours of entertainment for players searching for a fast and strategic board game that is simple to learn yet difficult to master.
Our recommendation
Partners Board Game is an excellent addition to any collection, particularly for those looking for a fast and competitive team-based experience. Its unique gaming mechanics of card swapping with your partner and the opportunity to undermine opponents create a fascinating and dynamic atmosphere that fascinates players from beginning to end.
Pros
Competitive and engaging.
Strategic decision-making.
Fast setup and gameplay.
Thrilling twists and turns.
Cons
Limited player interaction.
8. Splendor Board Game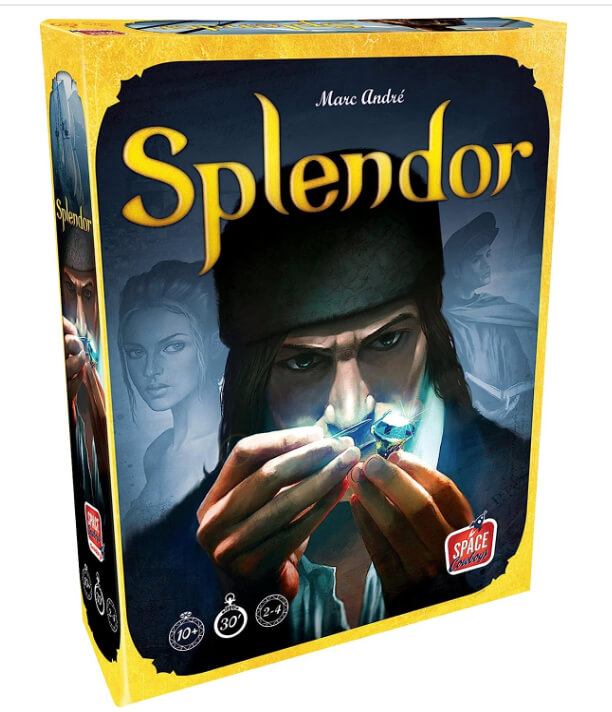 Compete as wealthy merchants to build a prestigious jewellery business in Renaissance Europe.
Vying for control of gem mines, trade routes, and storefronts in a race for prestige.
Fast and intuitive gameplay with countless replay opportunities and variable setups.
Acquire unique poker-like tokens to collect raw gems and build an intricate card collection.
Suitable for 2 to 4 players, ages 10 and up, with an average playtime of 30 minutes.
Key Specifications
| | |
| --- | --- |
| Material | Paper |
| Players needed | 4 |
| Time to play | 30 minutes |
| Theme | Family |
Step into the opulent world of Renaissance Europe with the Splendor Board Game! But how does Splendor stack against another strategy board game, Ticket to Ride? While Ticket to Ride focuses on building train routes worldwide, Splendor immerses players in the gem trade, where they vie to control mines, trade routes, and storefronts. Both games offer friendly competition and strategic challenges. Still, Splendor's unique poker-like token system for acquiring raw gems and building an intricate card collection sets it apart as an engaging and fast-paced game of prestige and power.
Splendor Board Game offers a captivating, fast-paced strategy game set in Renaissance Europe's jewellery trade. Players must compete to build the most lucrative and prestigious jewellery business by acquiring mines, transportation, and artisans while wooing the nobility.
The Game revolves around controlling gem mines, trade routes, and storefronts to accumulate victory points and race for prestige and power. The gameplay is intuitive and easy to learn, making it an excellent choice for family game nights and adult gatherings.
With its completely variable setup, Splendor provides countless opportunities for replayability, ensuring that each session feels fresh and exciting. The Game's core mechanics involve collecting raw gems as unique poker-like tokens used to acquire cards with mines, boats, caravans, and guild storefronts worldwide. The race to become the best-known merchant of them all adds an element of friendly competition and strategic depth to the Game.
Our recommendation
Splendor Board Game is a gem that deserves a spot on every board game enthusiast's shelf. Its blend of strategy, friendly competition, and straightforward rules makes it a fantastic choice for players aged 10 and up. The short average playtime of 30 minutes ensures that players can enjoy multiple rounds in a single game night.
Pros
Captivating and fast-paced.
Intuitive and easy to learn.
Countless replay opportunities.
Suitable for families and adults.
Cons
Not recommended for below 18 ages.
9. The Quest for El Dorado Board Game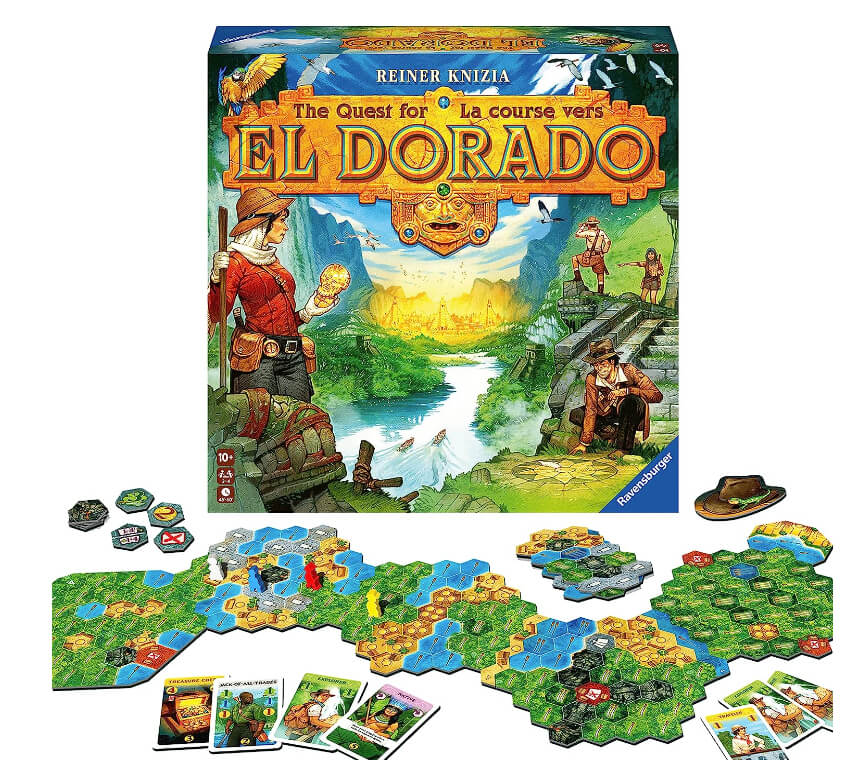 Refreshed version with new art, larger cards, and an in-game mini-expansion.
Perfect for 2-4 players, ages 10 and up, with a quick 60-minute playtime.
Easy-to-understand instructions for a fun play experience with family and friends.
Variable game board with over 100,000 layouts and deck-building strategy.
Engaging quest for treasure with immersive components and adventurous gameplay.
Key Specifications
| | |
| --- | --- |
| Material | Cardboard Plastic |
| Players needed | 2-4 |
| Time to play | 60 minutes |
| Theme | World Building |
Embark on an exciting quest for treasure with The Quest for El Dorado Board Game! For players seeking an adventurous and strategic experience, how does The Quest for El Dorado fare compared to another popular strategy board game, Pandemic? While Pandemic is renowned for its cooperative gameplay and global disease containment, The Quest for El Dorado takes players on a thrilling competitive expedition through an ever-changing terrain.
The Quest for El Dorado promises a fun and adventurous play experience for 2-4 players, ages 10 and up. The Game's objective is to race through the terrain in search of the legendary city of El Dorado, facing challenges and overcoming obstacles.
With easy-to-understand instructions, players can quickly dive into the action and enjoy the quest for treasure without any hurdles. The Game's refreshing new art by Vincent Dutrait and larger cards enhance the overall visual appeal, immersing players in the thrilling expedition.
The Game's replay value is a standout feature, with a variable game board offering more than 100,000 layouts. The deck-building strategy adds depth to the gameplay, ensuring that each session brings unique challenges and outcomes.
With an average playtime of 60 minutes, The Quest for El Dorado strikes a perfect balance between depth and accessibility, making it an ideal choice for families and friends looking for an engaging and dynamic game night.
Our recommendation
The Quest for El Dorado is a treasure trove of excitement and strategy, making it a fantastic addition to any board game collection. The refreshed version's new art and components and the in-game mini-expansion enhance the overall play experience and replayability. Its accessible rules and short playtime ensure players can enjoy multiple adventurous journeys in a single game night.
Pros
Refreshed and visually appealing.
Suitable for family game nights.
High replay value.
Quick and accessible gameplay.
10. Photosynthesis Board Game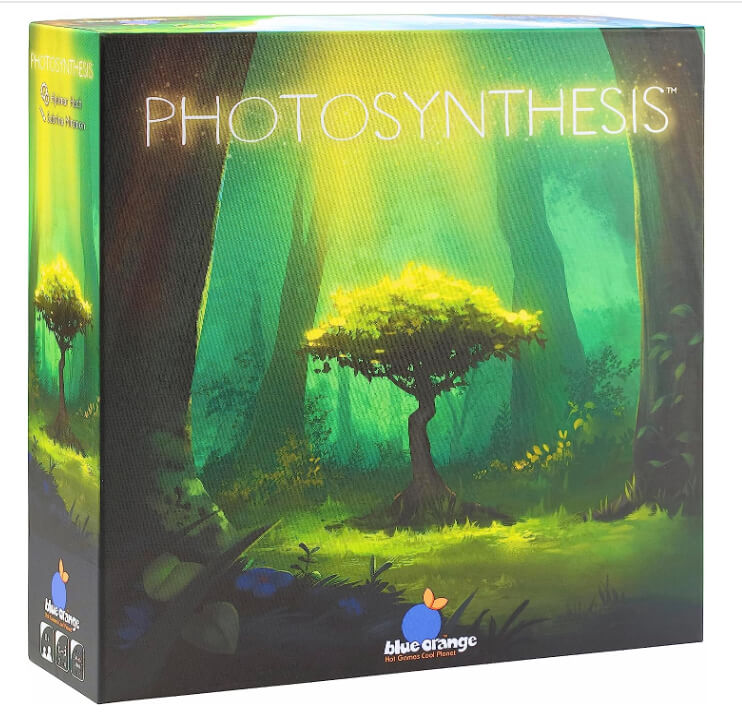 Environmental strategy game based on the life cycle of trees in an ever-changing forest.
Family-friendly gameplay for 2 to 4 players, suitable for ages 8 and up.
Action points allowance system for strategic tree growth and light points accumulation.
Stunning table presence and captivating theme for science and nature enthusiasts.
Easy-to-understand instructions, quick setup, and average playtime of one hour.
Key Specifications
| | |
| --- | --- |
| Material | Paper |
| Players needed | 4 |
| Time to play | 20-30 minutes |
| Theme | Science-Fiction |
Photosynthesis is one of the greatest environmental strategy board games, and it centres on the life cycle of trees, which you will find fascinating. How does Photosynthesis stack up against Terraforming Mars, another popular strategy board game for science and biology buffs looking for a nature-inspired gaming experience? While Terraforming Mars challenges players to turn Mars into a livable environment, Photosynthesis places them in a dynamic forest where they must plan to see their trees through all stages of life.
Photosynthesis is a wonderful strategy board game that takes its players outside into nature and challenges them to grow and care for trees wisely over their whole life cycle. The Game has a beautiful visual presence, with a forest that grows and changes as the Game progresses.
It's great for families or groups of friends looking for an outdoor-themed challenge since it can accommodate anywhere from two to four players. It's a flexible option for any gaming event since it can also be played as a 2-player abstract board game.
The strategic planning of a tree's expansion is rewarded with light points as it soaks up the sun's rays, and the Game's action point allowance system adds an extra element of strategy.
The Game's straightforward fundamentals make it suitable for players of any age, from 8 and above. The typical setup time is around a minute, and the Game lasts about an hour, so it manages to strike a nice balance between complexity and length.
Our recommendation
Photosynthesis is a breath of new air for scientific nerds and video game fans. A top-tier board game, it offers a fun time for all players and is perfect for bonding with friends and family. Photosynthesis is highly recommended for individuals looking for an immersive and strategic voyage through the beauties of nature, thanks to its simple principles and ever-changing forest.
Pros
Nature-inspired gameplay.
Versatile player count.
Accessible for all ages.
Beautiful table presence.
Cons
Limited depth for hardcore strategists.
[Buyer's Guide] Factors to Consider Before Buying the Best Solo Board Games
When searching for the best strategy board games, several factors come into play to ensure an engaging and enjoyable gaming experience. Whether you're a seasoned board gamer or a newcomer to the hobby, these considerations will help you make an informed decision.
1. Gameplay Mechanics
Look for solo-player board games with immersive and challenging mechanics. Ensure the Game offers a variety of strategic options, allowing you to explore different tactics and approaches. Engaging mechanics such as deck-building, worker placement, and resource management can elevate the gaming experience and keep you hooked for hours.
2. Difficulty Levels
Consider the Game's difficulty levels and whether they cater to your gaming expertise. Some solo-player board games offer adjustable difficulty settings, allowing you to scale the challenge to your preference. This ensures that experienced gamers and newcomers can enjoy the Game at their own pace and skill level.
3. Game Length
Consider the average playtime of the solo-player board game. Some players prefer shorter, more compact experiences enjoyed in a single sitting, while others may seek longer, more strategic games that offer deeper immersion and complexity. Choose a game that aligns with your preferences and available time for gaming sessions.
4. Theme and Setting
Consider the theme and setting of the solo-player board game. Choose a game with a theme that resonates with your interests and preferences. Whether exploring space, surviving on a deserted island, or solving mysteries in a cyberpunk world, a compelling theme enhances the narrative and makes the game more immersive and enjoyable.
Frequently Asked Questions
What are the best strategy board games for beginners?
Some top-rated strategy board games for beginners are Ticket to Ride, Carcassonne, and Splendor. These games have straightforward rules yet offer engaging strategic gameplay that gradually introduces players to more complex mechanics. They are perfect choices to kickstart your board gaming journey.
Are cooperative strategy board games suitable for solo play?
Yes, many cooperative strategy board games are designed to be played solo. Games like Pandemic and Spirit Island offer solo-specific modes where players can control multiple characters or factions to tackle challenges collaboratively, making them enjoyable experiences for solo players.
Can I enjoy solo-player board games as much as multiplayer games?
Yes, solo-player board games can be as enjoyable as multiplayer games. Solo-specific rules, clever AI systems, and challenging scenarios provide immersive and satisfying experiences, allowing solo players to delve into deep strategic gameplay and enjoy the competition of traditional multiplayer games.
How can I find strategy board games that suit my interests?
To find strategy board games that align with your interests, consider exploring board game review websites, online forums, and communities. Look for games with themes that resonate with you and read reviews from players with similar gaming preferences.
Conclusion
The strategy board game genre has a wide and exciting selection for gamers of all ages and ability levels.
These games give you many chances to test your strategic skills and have a great time with your friends and family, whether you're playing alone or in a group.
There's a strategy board game for everyone, whether they're into empire-building, mysteries, exploring undiscovered territory, or curing the world's epidemic.