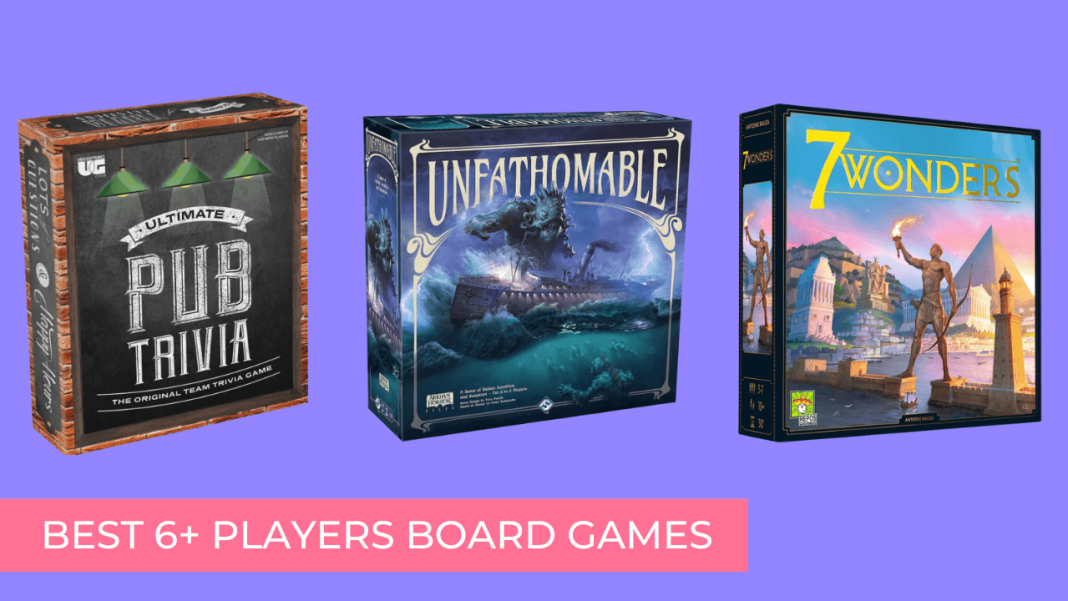 Are you ready to take your gaming evenings to the next level? Discover the comprehensive list of the best 6+ player board games! Unleash the laughs, the competition, and the fun with activities everyone will enjoy. With our curated collection of multiplayer board games, you can say goodbye to monotony and welcome excitement.
These games are popular among players of all skill levels because of their simple rules and exciting action. The thrill of triumph and connection delight awaits you, whether thinking about your next move or cheering on your teammates. Make lifelong memories as you connect through shared experiences and spirited competition.
It's time to up the ante on game night! Cooperative expeditions, brain-busting challenges, and nail-biting showdowns will liven up your meetings. Our broad selection of board games offers something for everyone, providing hours of fun and laughter. No more boring times. Let's get started!
Our Top Picks
| | | |
| --- | --- | --- |
| Top Pick | Budget Pick | Runner Up |
| Tiny Towns Board Game | Clue Hasbro Board Game | Ruin It Board Game |
| | | |
| Tiny Towns is our top pick for its engaging and versatile gameplay that appeals to players of all ages. It offers a delightful blend of strategy and creativity as players compete to build their tiny towns with various resources. The simultaneous-play mechanics make each round dynamic and fast-paced, keeping everyone involved and entertained. | Clue Hasbro Board Game earns our budget pick due to its timeless appeal and affordability without compromising on fun. This classic murder mystery game offers an immersive experience as players investigate the murder of Mr. Boddy. | Ruin It stands out as our runner-up for its unique and hilarious concept that guarantees laughter-filled gatherings. The game's simplicity and easy-to-learn rules make it a hit among players of all skill levels. Ruin It's the ability to bring out the creativity and wit in participants while ruining various topics in four words or less, creating a fantastic and engaging atmosphere. |
How We Tested Best 6+ Player Board Games?
At the heart of discovering the best 6+ player board games lie a rigorous testing process that ensures only the most engaging and entertaining options are cut. We believe in leaving no stone unturned to bring you the ultimate gaming experiences that will ignite joy and connection among players of all ages.
Here's a glimpse into how we put these games to the test:
1. Inclusive Fun for All
To earn a spot on our list, a board game must excel in creating a fun and inclusive environment. We evaluate how well the game accommodates different skill levels and ensures everyone feels engaged throughout the gameplay.
From youngsters to seasoned veterans, the best 6+ player board games embrace diversity and guarantee a good time for all participants.
2. Dynamic Gameplay & Replayability
We understand that excitement should never run dry regarding multiplayer board games. Our testing process revolves around assessing the game's replayability factor.
Does it offer various strategies, outcomes, and twists to keep players hooked even after multiple rounds? We strive to present you with games that will stand the test of time and remain as thrilling as the first playthrough.
3. Balanced Competition and Cooperation
Striking the perfect balance between competition and cooperation is essential in fostering a positive gaming experience. We meticulously evaluate how the game encourages healthy competition without overshadowing the importance of teamwork.
The best 6+ player board games strike that sweet spot where players can challenge each other while fostering camaraderie and teamwork to achieve common objectives.
Comparison Chart
Image
Product
Detail
Price

Tiny Towns Board Game

Alderac Entertainment Group (AEG)
Forest Theme
Building the best tiny town

Price

Clue Hasbro Board Game

Clue
Mystery, Thrill Theme
Solving intense mysteries

Price

Ruin It Board Game

Inspiration Play
Competition Theme
Convince the judge why you should win the game

Price

The Adventure Challenge – Family Edition Board Game

The Adventure Challenge
Adventure Theme
Leaving a legacy of memories

Price

Ultimate Pub Trivia Board Game

University Games
Trivia Theme
Inclusion of 5+ categories

Price

Shut the Box Dice Board Game

Vamslove
Educational Theme
Involves rolling dice

Price

Eclipse: Second Dawn for the Galaxy Board Game

Kolossal Games
Galaxy intimate Theme
Controlling vast interstellar civilization

Price

What's Your Price Board Game

The Game Chef
Trivia Theme
Involves hilarious twists

Price

Unfathomable Board game

Fantasy Flight Games
Fantasy Theme
High-class sea horror elements

Price

7 Wonders Board Game

Repos Production
Military Theme
Developing and comparing military strengths

Price
10 Best 6+ Player Board Games
1. Tiny Towns Board Game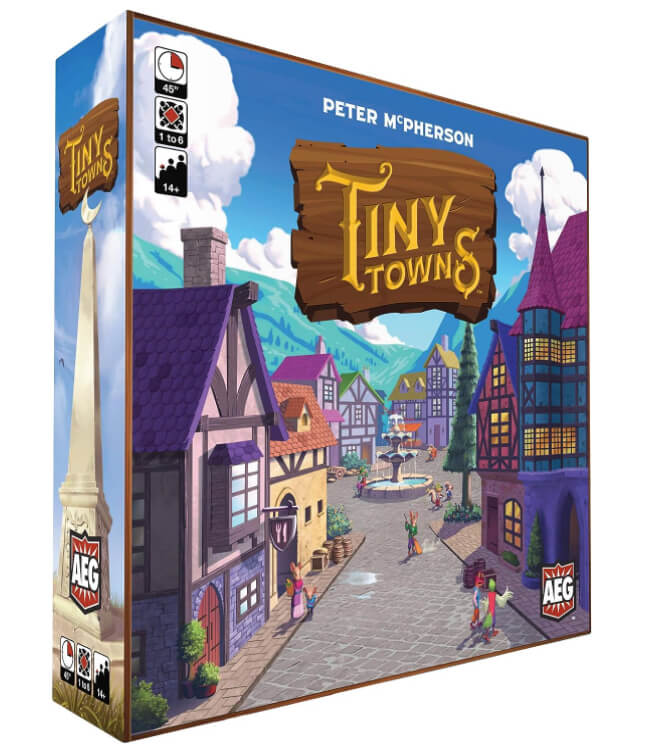 Simultaneous-play town building for diverse experiences every game.
Strategic resource management and pattern formation challenge players' wits.
Accommodates 6+ players for lively gatherings and game nights.
Setup is quick, and rules are easy to learn for all skill levels.
45-60 minutes of playtime offers ample time for competitive fun.
Key Specifications
| | |
| --- | --- |
| Material | Paper |
| Players needed | 6 and more |
| Time to play | 45-60 minutes |
| Theme | Forest |
Prepare to liberate your inner architect and embark on a thrilling voyage to construct the most prosperous Tiny Town. This charming board game offers a unique and captivating experience that will keep participants of all ages captivated from beginning to end. Tiny Towns is like the popular board game for six or more players, "Catan," focusing on resource management and strategic thinking. Still, it adds the innovative element of simultaneous town construction, ensuring that no two games are identical!
In Tiny Towns, players compete to build prosperous villages by strategically arranging resource containers on their grids. The trap? You must use these cubes to create specific patterns and structures, which will challenge your intelligence!
With a duration of 45 to 60 minutes, you have ample time to experiment with various strategies and approaches to outperform your opponents.
Tiny Towns accommodates six or more players, making it the ideal game for social gatherings and game evenings. The setup is simple, and the rules are uncomplicated, making it accessible to even novice board game players.
In addition, simultaneous play keeps everyone involved, eliminates lengthy wait periods, and ensures that every turn is exciting.
Our recommendation
Tiny Towns is a delightful addition to any collection of board games. It is a success with groups of all sizes due to its dynamic gameplay and engaging mechanics. The feature of simultaneous play keeps everyone engaged, and the fact that each game offers a unique experience will keep you coming back for more.
Pros
Engaging and dynamic gameplay.
Suitable for large groups.
Quick setup and easy rules.
High replayability.
2. Clue Hasbro Board Game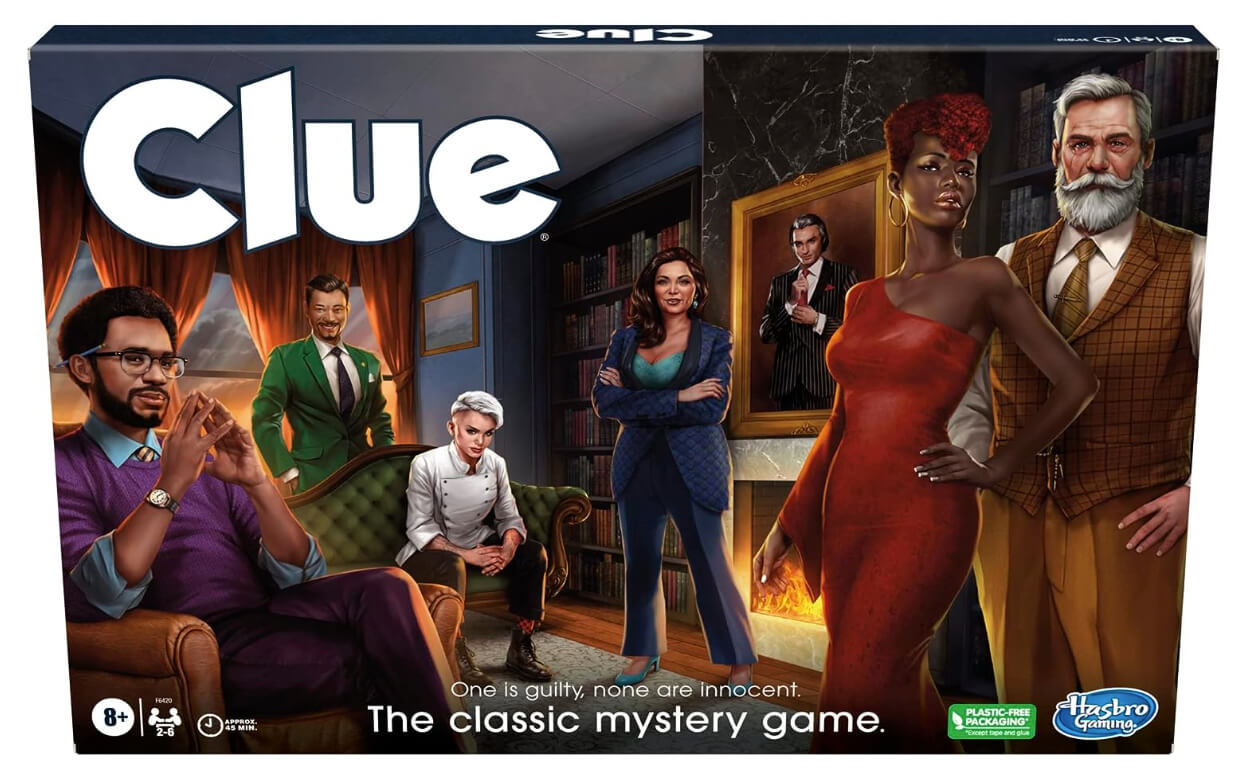 Classic Clue gameplay with a reimagined murder mystery storyline and Tudor Mansion setting.
Play as one of six intriguing suspects with unique backstories and secrets.
Elevated game components include gold-plated zinc tokens and a beautifully illustrated gameboard.
Clue cards unlock secrets, speeding up sleuthing and adding depth to the gameplay.
Fun family game for ages 8 and up, offering an hour of engaging mystery-solving.
Key Specifications
| | |
| --- | --- |
| Material | Cardboard |
| Players needed | 6+ |
| Time to play | 60 minutes |
| Theme | Mystery, Thrill |
With the Clue Hasbro Board Game, you may immerse yourself in a world of mystery and intrigue. Classic Clue gameplay combines intriguing new twists, a likable cast of characters, and a luxurious Tudor Mansion setting in this recreated classic. Those who like improving their detective skills will enjoy this exciting board game. Players who like the strategic depth of Clue will find this game to be a thrilling and challenging relative of the classic game Jenga.
You must determine who murdered Boddy Black in Clue. You play as one of six interesting suspects, exploring the estate for clues. The suspects are Miss Scarlett, Colonel Mustard, Mayor Green, Chef White, Solicitor Peacock, and Professor Plum.
The luxurious feel of your detective work will be amplified by the intricately drawn gameboard and tactile, gold-plated zinc weapon tokens. As you race against your opponents to solve the case, use the Clue cards to reveal secrets and uncover hidden agendas.
Clue is a great party game for people of all ages, especially those above eight. Each game has a new mystery for you to solve, and the average length is around an hour, so you'll want to keep coming back for more.
Easy installation means you can start having fun immediately. Prepare for a compelling mix of deduction, strategy, and surprises that will keep you guessing until the big reveal.
Our recommendation
The Clue Hasbro Board Game is a hit with players of all ages because it expertly blends the original Clue formula with modern twists and glitzy extras. Each game seems like an extravagant investigative event because of the textured tokens and complex components. Clue's fun mechanics and compelling cast of characters make it enjoyable for players of all experience levels.
Pros
Engaging and immersive gameplay.
Glamorous and high-quality components.
Easy setup and accessible rules.
Rich character backstories.
3. Ruin It Board Game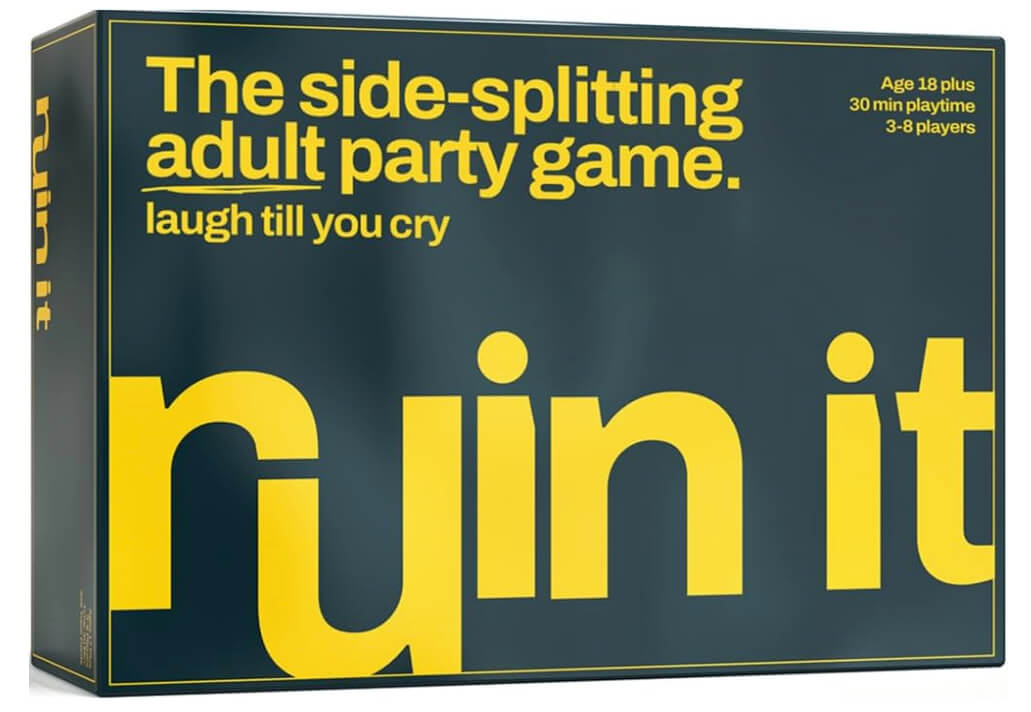 Hilarious adult game; ruin topics in 4 words or less to win laughs and points.
Quick and easy gameplay, perfect for 3 – 8 adult players and under 30-minute rounds.
Great for gifting, ideal for camping, birthdays, and holiday gatherings.
255 topic cards, 8 whiteboards, and 10 markers for endless humor and creativity.
Unleash laughter, wit, and friendly competition with captivating party entertainment.
Key Specifications
| | |
| --- | --- |
| Material | Cardstock, Cardboard |
| Players needed | 3-8 |
| Time to play | 30 minutes |
| Theme | Competition |
Prepare to RUIN any subject in the most hilarious manner possible with the Ruin It Board Game! While Mirthful Madness is a delightful 6+ player board game that provides chuckles and humorous challenges, Ruin It takes the idea to a whole new level of absurdity! Both games concentrate on revealing themes and offering clever comments, but Ruin It has a unique twist of restricting responses to four words or fewer adds an added dimension of complexity and inventiveness.
This hilarious adult game encourages participants to ruin any subject in four lines or fewer while persuading the judge that their ruin is the ultimate winner.
This simple party game for 3 to 8 adult players ensures unending laughter and enjoyment in about 30 minutes every round. But hold on; there's more! Ruin It is the ideal present for any event, including camping excursions, birthdays, and holidays.
Ruin It aims to create a rowdy party environment with wildly exciting gameplay. The game includes 255 subject cards, 8 whiteboards, and 10 markers, allowing hours of laughing with family and friends.
Learning to play takes a few minutes, making it accessible to everyone, from seasoned players to newbies. Because of its adaptability, it can accommodate 3 to 8 adult players and a game can be finished in about 30 minutes, assuring a rapid and interesting experience.
Our recommendation
The Ruin It Board Game is a hilarious comedy that should be in every game night collection. Its simple rules and rapid action ensure that players of all skill levels have a good time. Ruin It from Inspiration Play is a smash game that will amuse you and your friends in stitches. It also happens to be the ideal present for numerous occasions.
Pros
Hilariously entertaining gameplay.
Quick rounds for lively parties.
Versatile gifting option.
Ample cards and components.
Cons
Might involve altercations
4. The Adventure Challenge – Family Edition Board Game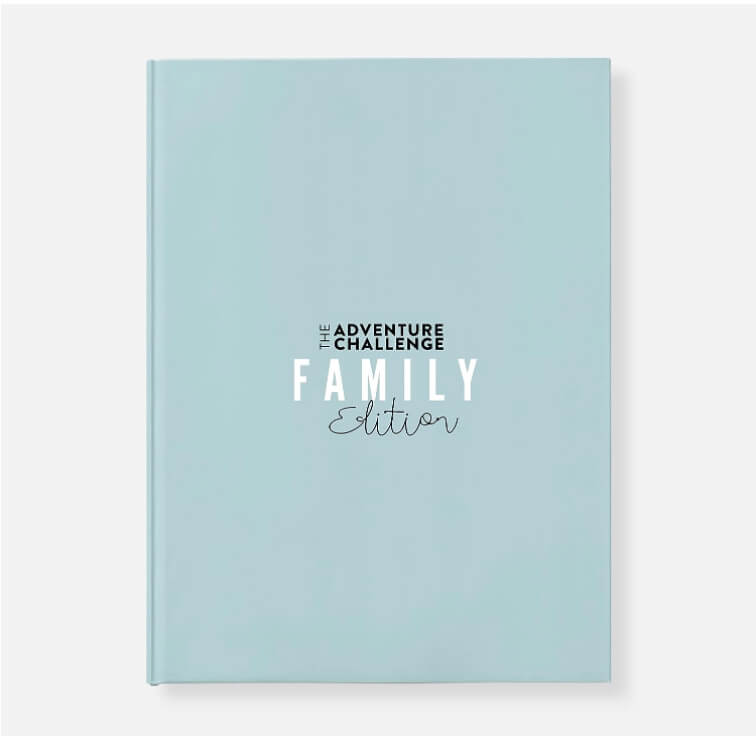 50 exciting family adventures with surprises in each challenge for unforgettable bonding.
The "No takebacks" rule adds thrill and commitment to completing each adventure.
Time and budget guides for easy decision-making.
Designed for families with kids ages 4-15, catering to 4-8 members for shared joy.
Preserve memories with spaces for pictures and journaling, creating a cherished scrapbook.
Key Specifications
| | |
| --- | --- |
| Material | Canvas |
| Players needed | 6+ |
| Time to play | 30-40 minutes |
| Theme | Adventure |
Families desiring a legacy of cherished memories assemble! The Adventure Challenge – Family Edition Board Game is your ticket to eradicating tedium, breaking free from routine, and creating unforgettable moments. The Adventure Challenge – Family Edition Board Game takes family connection to new heights, whereas Family FunQuest promises joyous family moments. Both games suit various family members, but The Adventure Challenge offers a unique twist: once a challenge is completed, there is no going back!
This game is an excellent option for creating memorable moments with children ages 4 to 15 and adults, as it is designed for families with four to eight members. The Family Edition of The Adventure Challenge is a treasure chest of delightful surprises and meaningful family connections.
With 50 thrilling family adventures varying from blindfolded cookery to painting on a one-of-a-kind canvas, each challenge ensures unforgettable experiences. Each excursion comes with budget and time guides, making decision-making simple.
The game thrives on the "no takebacks" clause, which ensures it must be completed once a challenge is crossed off! This feature fosters a sense of commitment and adds excitement to the voyage of family bonding.
Our recommendation
The Adventure Challenge – Family Edition Board Game is essential for families seeking meaningful connections and thrilling shared experiences. This game is ideal for players of all ages due to its wide variety of adventures, no-take-backs rule, and commitment to fostering cherished memories.
Pros
Diverse and thrilling adventures.
The "No takebacks" rule amps excitement.
Easy-to-follow time and budget guides.
Engaging for a wide age range.
Cons
Limited for smaller families.
5. Ultimate Pub Trivia Board Game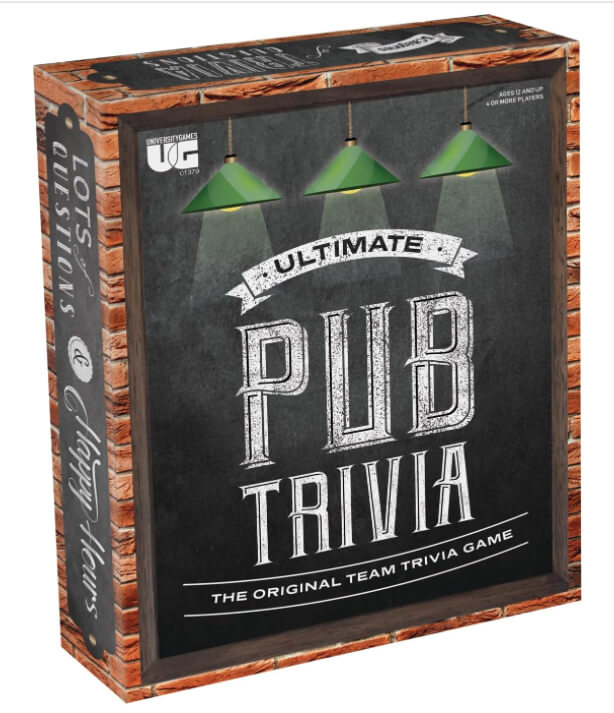 Pub quiz fun at home, perfect for teams or live-streamed trivia events.
Original trivia questions covering 5 diverse pop culture categories.
Option to be the quizmaster, hosting quizzes on popular platforms.
Ideal for 4 or more players aged 12 and up, with or without drinks.
Effortless setup, flexible gameplay, and engaging questions for all.
Key Specifications
| | |
| --- | --- |
| Material | Cardboard |
| Players needed | 4 or more |
| Time to play | 30 minutes |
| Theme | Trivia |
The Ultimate Pub, Trivia Board Game, is perfect for a night of fun and challenging trivia with friends and family. The Ultimate Pub, Trivia Board Game, has a unique live-streaming function distinguishing it from Pop Culture Challenge, another popular trivia game. While both games cover subjects related to popular culture, the Ultimate Pub Trivia Game offers a much wider range of question types. It is a flexible and engaging option since it can be used to webcast live trivia evenings.
For groups of four or more people, 12 and older, The Ultimate Pub Trivia Board Game provides hours of exciting entertainment. Put your knowledge to the test across five distinct areas with our unique trivia questions.
The game may be played in teams or hosted by one person, making for lively and engaging trivia evenings. Being alcohol-free makes it ideal for people of all ages and tastes.
Easy assembly makes it ideal for both last-minute and advanced trivia evenings. There is something for everyone in the supplied categories, which include sports, history, the future, pop culture, free-form, and literature.
The Ultimate Pub, Trivia Board gaming, is a must-have for any gaming library, whether you're a trivia novice or a seasoned quizmaster.
Our recommendation
Enjoy all the fun of a pub quiz in the comfort of your home with The Ultimate Pub Trivia Board Game. It's a great option for virtual gatherings and gaming evenings because of its innovative features and wide range of categories. Albeit you're hosting a live quiz or pitting friends and family against one other in teams, this game is sure to be a blast.
Pros
Home pub quiz excitement.
Diverse pop culture categories.
Live-streaming capability.
Suitable for various ages.
6. Shut the Box Dice Board Game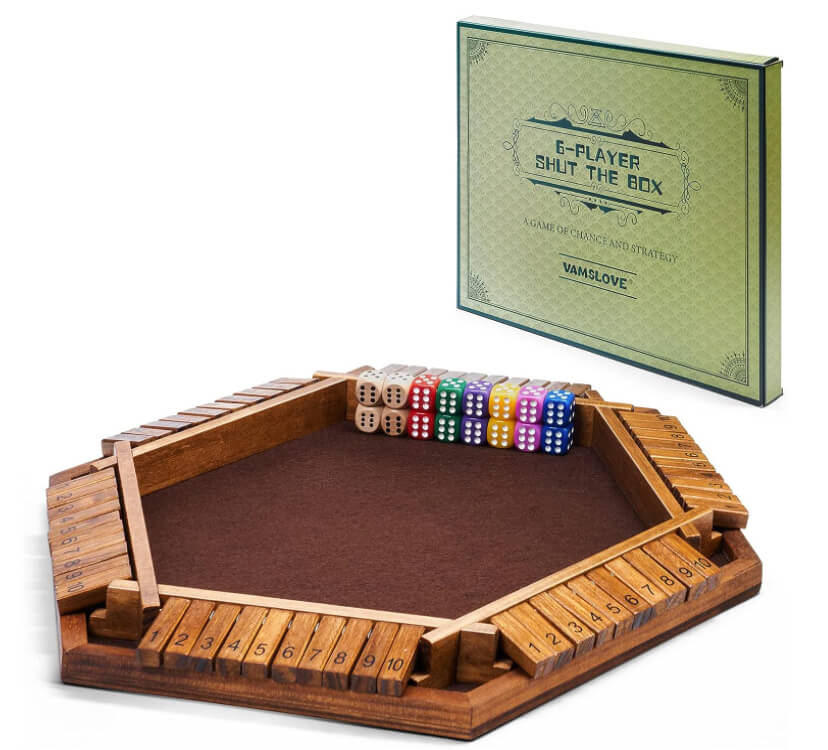 Versatile 1-6 player dice game for gatherings and family fun.
Hexagonal game board and 16 dice (12 colored, 4 spare wooden dice).
Enhances math skills and fosters bonding among players.
Sturdy wooden construction and clear, easy-to-read numbers for lasting enjoyment.
Portable and easy to set up, perfect for various locations and occasions.
Key Specifications
| | |
| --- | --- |
| Material | Wood |
| Players needed | 6 |
| Time to play | 30-45 minutes |
| Theme | Educational |
Step into the world of fun and excitement with the Shut the Box Dice Board Game! This fantastic game caters to 6 players, making it a versatile choice for gatherings and family game nights. While Roll the Dice Showdown is a fun 6+ player board game, Shut the Box Dice Board Game takes the excitement to another level with its unique dice rolling and number-flipping mechanics. Both games promote math skills and bonding, but Shut the Box's addition of 2 more players allows for larger group participation and even more enjoyable moments.
Shut the Box Dice Board Game is an exceptional blend of entertainment and education, making it a perfect tool for practicing math skills, including calculations and number bonds. With its simple gameplay, players roll the dice and flip the corresponding tiles until they can't match their roll on the remaining tiles.
The game's versatility shines through, whether you're enjoying it at home, on the beach, during vacations, or on road trips – it's ready to be played anywhere! Setup is a breeze, and the detailed game instructions make it easy for anyone to dive into it.
The Shut, the Box Dice Board Game, is designed for adults and children, making it an ideal gift to bring happiness and freshness to any gathering.
It promotes concentration and fosters relationships with others, making it an excellent choice for friends, families, and classmates to enjoy together. Its combination of fun and educational elements sets it apart as a game that delights players of all ages.
Our recommendation
The Shut, the Box Dice Board Game, is an absolute winner for both entertainment and learning. With math-focused gameplay and the capacity to accommodate 1-6 players, it's a delightful addition to any game night or family gathering. The high-quality wooden construction, smooth rolling, and easy-flip tiles ensure a durable and enjoyable game experience.
Pros
Versatile player count.
Diverse dice options.
Educational and bonding.
Sturdy and easy to read.
7. Eclipse: Second Dawn for the Galaxy Board Game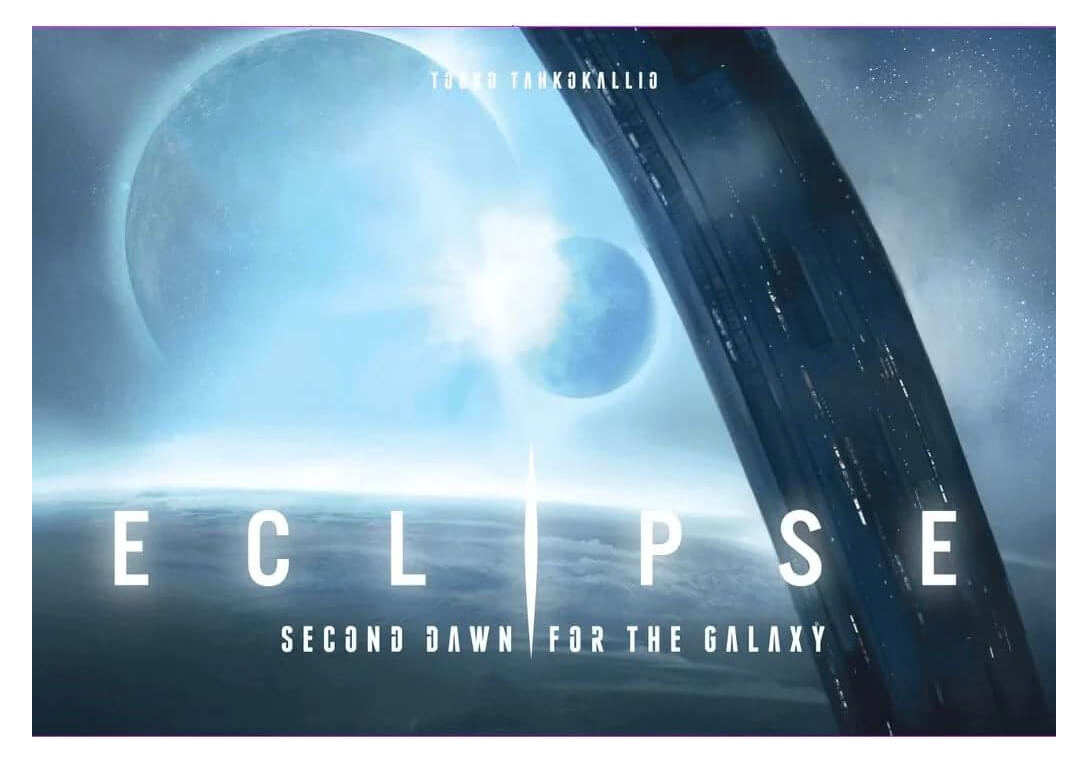 Vast interstellar civilization control with exploration, research, and epic space warfare.
Revamped graphic design and meticulously revised content for an enhanced experience.
Command human or alien species, each with distinct miniatures for an immersive journey.
Full line of Ship Pack 1 miniatures, custom plastic inlays, and custom combat dice.
Fine-tuned gameplay with material from expansions for the ultimate space conquest.
Key Specifications
| | |
| --- | --- |
| Material | Plastic and Cardboard |
| Players needed | 6+ |
| Time to play | 30 minutes |
| Theme | Galaxy intimate |
Eclipse: Second Dawn for the Galaxy Board Game will take you on an interplanetary journey! Command a huge civilization as it explores new star systems, undertaking innovative research, and amassing powerful spacecraft for epic cosmic battle. While Stellar Odyssey brings players on an exciting cosmic adventure, Eclipse: Second Dawn for the Galaxy expands on that with broad gameplay and fascinating aesthetics.
Eclipse is a massive strategy board game for a competitive party of 6 or more players that immerses them in a large, cosmic sandbox. Players must carefully spend resources and develop technology to strengthen their spacefaring civilizations.
Updated miniatures, bespoke plastic inlays, and battle dice make every choice more compelling. The merging of content from previous expansions improves the gameplay even more, creating the ultimate updated edition of this legendary space voyage. Eclipse blends exploration, diplomacy, and combat in one enormous cosmic bundle, so prepare for a thrilling voyage.
The game's setup may take some time, but its immersive and strategic gameplay will provide hours of cosmic joy. Dive into violent fights, create alliances, and make game-changing choices in this galaxy-exclusive experience while pondering your next move.
Eclipse: Second Dawn for the Galaxy is unquestionably a masterpiece of space-themed board games, enthralling seasoned and newbies with its fascinating gameplay and aesthetically gorgeous components.
Our recommendation
Eclipse: The Galaxy's Second Dawn Board Game is an interplanetary masterwork that immerses players in a universe of cosmic conquest and strategic genius. The game's redesigned design, bespoke components, and painstakingly reworked content demonstrate the creators' commitment to providing an amazing experience.
Pros
Expansive and strategic gameplay.
Enhanced visuals and miniatures.
Rich, diverse universe.
Updated and immersive experience.
8. What's Your Price Board Game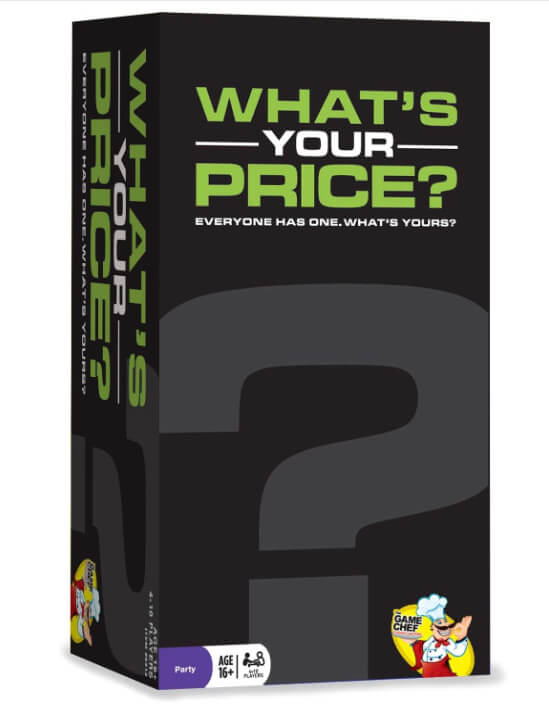 A hilarious twist on classic scenarios.
Engaging in conversations and lively interactions.
Family-friendly game for ages 16+.
Quick setup, 2 minutes to learn.
Accommodates 6+ players, 25-30 minutes of non-stop amusement.
Key Specifications
| | |
| --- | --- |
| Material | Paper |
| Players needed | 6+ |
| Time to play | 25-30 minutes |
| Theme | Trivia |
Get ready to unleash laughter and lively conversations with What's Your Price Board Game – the ultimate party game that takes a classic concept to new heights! While Party Mayhem Showdown is a blast with its chaotic hilarity, What's Your Price Board Game adds a unique twist by incorporating scenarios where players negotiate their worth to undertake daring tasks. Both games are fantastic for ages 16+ and promise to keep the room buzzing with laughter. However, What's Your Price stands out for its emphasis on engaging conversations, creating bonds, and adding a touch of playful suspense.
What's Your Price Board Game is about bringing friends and family together for noisy fun. The game includes 280 scenario cards that challenge players to contemplate their worth for daring escapades.
With 80 money cards and a scorepad, the game keeps track of your epic negotiations and rounds. The setup is a breeze, taking only 2 minutes to learn the rules and get started. The game accommodates a wide group, requiring 6+ players for an optimal experience. The gameplay lasts 25-30 minutes, ensuring non-stop amusement without dragging out the fun.
The game's true charm lies in its ability to spark meaningful conversations and laughter amongst players of all ages. The scenario cards are carefully crafted to ensure a family-friendly experience, so you can even play it with your mother in the room.
It's an excellent way to put down your phones, disconnect from social media, and connect with your loved ones through joyous camaraderie. As players discover each other's playful sides, the What's Your Price Board Game will surely become a cherished addition to your game collection.
Our recommendation
What's Your Price Board Game is a must-have for anyone seeking a game that guarantees laughter, entertainment, and genuine interactions. Its hilarious twist on classic scenarios invites players to negotiate their worth for outrageous tasks, igniting conversations that leave lasting impressions. With its family-friendly approach, quick setup, and delightful gameplay, What's Your Price is a fantastic choice for game nights and gatherings.
Pros
Unleashes laughter and joy.
Promotes bonding and connections.
Family-friendly and inclusive.
Quick setup and gameplay.
Cons
Limited scenarios variety.
9. Unfathomable Board Game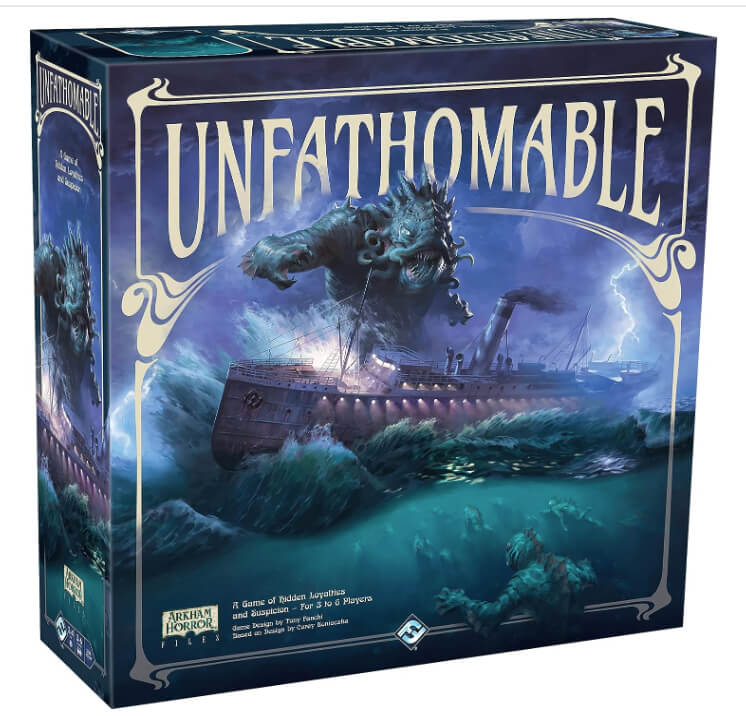 Gripping strategy horror adventure.
Hidden traitor mechanic for suspense.
Unique Arkham Horror Files universe.
Collaborative gameplay with 6+ players.
Immersive storytelling and deduction.
Key Specifications
| | |
| --- | --- |
| Material | Cardboard |
| Players needed | 3-6 |
| Time to play | 2-4 hours |
| Theme | Fantasy |
Prepare to board the steamer Atlantica for an exciting adventure with Unthinkable Board Game. Unfathomable Board Game takes players deep into the frightening depths of the ocean, while Betrayal at Baldur's Gate sparks intrigue in the city of Baldur's Gate. Both games include a secret traitor that players must learn to deal with to succeed. Unfathomable stands out, though, thanks to its take on the Arkham Horror Files world, which provides a compelling adventure with a wealth of backstory and a fresh cast of characters.
Unfathomable prepares players for an exciting journey by plunging them into an unsettling, open-ended story. The game's player count may go as high as six, making it perfect for large get-togethers. There will be plenty of time for unexpected turns in the story and tense confrontations, so set aside anything between 120 and 240 minutes to play.
Players rely heavily on one another to fight off dangerous creatures and keep the ship afloat. However, the saboteurs in the shadows will look for ways to foment division and disorder, bringing a strategic aspect to the situation.
The rich mythology and fascinating secrets of the Arkham Horror Files world serve as the setting for Unfathomable, enticing fans of the horror genre. The game's mechanics are a seamless fusion of narrative, strategy, and deduction, creating an engaging and unpredictable adventure.
If you're looking for a hidden-traitor board game that will transport you to a mysterious world where a single turn of destiny might betray your every ounce of trust, look no further than Unfathomable.
Our recommendation
A thrilling adventure into strategic horror and covert treachery, Unfathomable Board Game is an unforgettable experience. It's a thrilling and immersive experience set in Arkham Horror Files for six or more people. The cooperative and sneaky nature of the game makes it great for parties and get-togethers.
Pros
Engaging and suspenseful gameplay.
Rich lore and an atmospheric setting.
Ideal for game nights.
Captivating hidden traitor mechanics.
Cons
Lengthy playtime for some.
10. 7 Wonders Board Game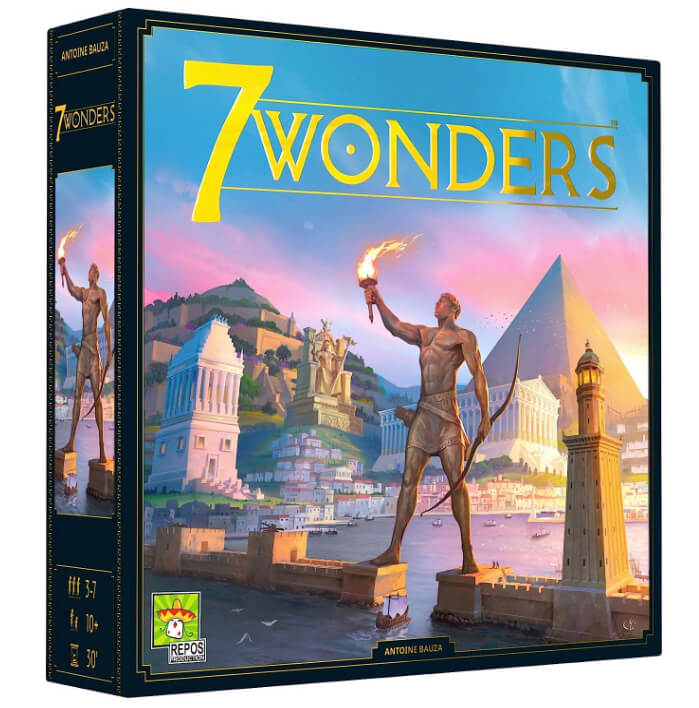 Strategic card-drafting gameplay for the players.
Build ancient civilizations and wonders.
Engaging with 3-7 players (can include more as well).
Quick 30-minute playtime to wrap things up early.
Expansions for enhanced replayability.
Key Specifications
| | |
| --- | --- |
| Material | Cardboard |
| Players needed | 3-7 |
| Time to play | 30 minutes |
| Theme | Military |
7 Wonders is a compelling trip that takes players back to the ancient world, making it a standout compared to the Unfathomable Board Game. Players take on the role of the mayor of one of the seven most powerful cities and are tasked with establishing trade routes, amassing riches, and establishing their military superiority.
Players go on an exciting journey to develop their civilizations via card drafting in the board game 7 Wonders. Because each choice influences the overall objectives and the requirements for winning, smart methods are encouraged.
The game revolves around players competing against one another in armed wars and managing resources, and the game derives much of its appeal from these fascinating interactions with adjacent towns.
7 Wonders delivers a dynamic and fast-paced experience with a play length of just thirty minutes. This ensures that players are kept interested without feeling the game dragging on.
In addition, the game may be played several times thanks to the addition of optional expansions such as Cities, Leaders, and Armada, which also provide new and exciting content to the experience.
Our recommendation
If you have friends or family members looking for a fun and fast-paced strategy game, 7 Wonders is an excellent choice to include in your library of board games. Players above ten are certain to have a fun time thanks to the skillful integration of strategic card drafting, resource management, and military strategy.
Pros
Fast-paced and engaging.
Diverse strategic choices.
Suitable for families and friends.
Expansions offer new experiences.
Cons
Limited player interaction.
[Buyer's Guide] Factors to Consider Before Buying the Best 6+ Player Board Games
When looking for the best 6+ player board games to spice up your game nights or gatherings, there are several crucial factors to remember. These considerations will help you make a well-informed and satisfying choice that suits your preferences and group dynamics.
Player Count and Scaling
Verify that the game is explicitly designed for 6 or more players to guarantee an enjoyable experience. Some board games might accommodate larger groups, but the quality of gameplay could vary with the number of participants. Look for titles that shine in the 6+ player category to ensure everyone stays engaged.
Gameplay Duration
Consider the average playing time of the board game. For larger groups, balancing enjoying a fulfilling gaming experience and avoiding excessively lengthy sessions is essential. Look for games that offer a reasonable playtime, ideally around 30 minutes to an hour, so participants stay invested without feeling overwhelmed.
Complexity and Accessibility
Assess the game's rules and mechanics to ensure they are understandable for a diverse audience. Strike a balance between depth and accessibility, so players of varying experience levels can enjoy the game together. Opt for games with clear and concise rules, making them accessible to newcomers while still providing depth for seasoned players.
Interaction and Engagement
Seek games with ample player interaction, as they foster engaging social dynamics among participants. Games that involve negotiation, cooperation, or competition can enhance the overall experience and create memorable moments during gameplay. Look for titles that encourage interaction, sparking laughter and friendly rivalries.
Replayability and Variability
Consider whether the board game offers diverse scenarios, strategies, or random elements that promote replayability. Games with variable setups, multiple paths to victory, or expansion options provide ongoing excitement and value. A wide variety of experiences keeps the game fresh and remains a favorite choice for future gatherings.
Theme and Artwork
Evaluate the game's theme and artwork to match the preferences and interests of your group. Immersive themes can enhance engagement and transport players into captivating worlds. Strive for a game that resonates with your group's tastes, whether historical, fantasy, sci-fi, or humorous themes.
Reviews and Recommendations
Before making a final decision, check reviews and recommendations from players with similar gaming preferences. Peer feedback provides valuable insights into a board game's strengths, weaknesses, and overall enjoyment level, helping you make an informed purchase.
Frequently Asked Questions
Can I play a 6+ player board game with fewer players?
Yes, most 6+ player board games are designed to be flexible and accommodate a range of player counts. However, with fewer participants, some games may require modifications or adjustments for optimal balance and enjoyment.
Are there any 6+ player board games suitable for younger players or families?
A: Absolutely! Many board games in this category offer family-friendly themes and mechanics, making them enjoyable for kids and adults. Look for games with age-appropriate content and easy-to-understand rules for a delightful family gaming experience.
How do I find 6+ player board games suitable for casual or social gatherings?
A: For casual and social gatherings, seek board games with interactive elements, party-style mechanics, or cooperative gameplay. Games involving teamwork, bluffing, or storytelling often create a lively and engaging atmosphere for gatherings with friends and family.
What makes a 6+ player board game different from regular board games?
A: 6+ player board games are designed to accommodate larger groups, offering gameplay mechanics and components tailored for the increased player count. These games prioritize player interaction, social dynamics, and scalability to ensure everyone remains involved and entertained.
Conclusion
There are a few important criteria to remember while searching for the best board games for 6+ players. Finding the optimal number of players and ensuring the game still delivers when played with a bigger group is a top priority. For optimum fun, it's also important to consider the tastes and ages of the players while designing the game's level of complexity, theme, and mechanics.
The lifespan of a game may be increased by considering its replayability and the availability of expansion possibilities, both of which should provide fresh challenges and opportunities to the player with each session. The appropriate 6+ player board game may spark unforgettable moments and everlasting fun.