This time of year is ideal for unwinding and spending time with friends and family. And what better way there is to achieve it than with a good game of Monopoly? Board games are great for encouraging cooperation and communication among players and testing their mental and academic prowess.
There is a board game for every mood, whether you're in the mood for nostalgia, novelty, or personalization. Here are the 10 best board games for family and friends during the winter break. There's something here for everyone, with various genres, themes, and gameplay mechanisms.
We'll also run you over the fundamentals of each game, such as how to play, what to expect, and what the point is. You'll learn to prepare for, engage in, and triumph over the game. In addition, a dedicated section at the end of this article to help you choose among these options. Without further ado, let's dive right into it!
Our Top Picks
| | | |
| --- | --- | --- |
| Top Pick | Budget Pick | Runner Up |
| Cascadia Board Game | Do You Really Know Your Family Board Game | Azul Board Game |
| | | |
| The Cascadia Board Game is our top recommendation due to its engaging gameplay and strategic depth. In this Pacific Northwest-themed board game, players compete to create the most balanced ecosystem by strategically arranging tiles and tokens to accomplish wildlife objectives and establish habitat corridors. | Do You Really Know Your Family is a budget-friendly card game that provides amusement and education. Players respond to inquiries about one another to ignite engaging conversations and create humorous family memories. This inexpensive game is ideal for family game evenings and gatherings due to its easy-to-learn rules, fast gameplay, and suitability for a wide age range. | The Azul Board Game comes in second place due to its combination of strategy, elegance, and playability. In this tile-placing game, players compete to create breathtaking mosaics by combining resources and cunning strategies. With its easy-to-learn principles, gorgeous components, and engaging combat, Azul provides novice and experienced players with an immersive experience. |
How We Tested Best Board Games?
We undertook a thorough testing procedure that analyzed numerous crucial aspects to find the top board games. Our staff of board game enthusiasts extensively analyzed each game based on its entertainment value, adherence to rules and regulations, and degree of complexity.
We tested the best board games by using the thorough testing method mentioned below:
1. Entertainment and Fun Level
We noted how engaging and pleasurable the gaming experience was while measuring each board game's entertainment and enjoyment level.
We considered elements such as the game's capacity to hold players' interest, encourage laughing and conversation, and maintain a feeling of excitement throughout.
This category rewarded games that consistently created laughter, friendly competition, and an overall good experience.
Rules and Regulations:
We devoted special attention to the clarity and comprehensibility of the game's rules and regulations. Games with well-defined and simple instructions were highly praised for offering a smooth, frustration-free play experience.
We also addressed the rules' accessibility for new and experienced players, ensuring that people of all skill levels could enjoy the game.
Challenging Level:
A good board game achieves a balance between being difficult enough to keep players interested and being fair and accessible.
We assessed each game's degree of difficulty, considering elements such as strategic decision-making, problem-solving, and the possibility of unforeseen twists and turns.
This category rewarded games that provided a satisfactory degree of challenge, pushing players to think tactically and alter their approach.
Comparison Chart
Image
Product
Detail
Price

Cascadia Board Game

Aderac Entertainment Group
1-4 Players
Puzzle Theme
Mysterious journeys through different places 

Price

Do You Really Know Your Family Board Game

Do You Really Know Your Family
3-8 Players
Trivia Theme
Testing family members

Price

Azul Board Game

Next Move
2-4 Players
Patterns Theme
Family-oriented

Price

Hues and Cues Board Game

Usaopoly
3-10 Players
Games
Party Style Games

Price

Ravensburger Minecraft

Ravensburger
2-4 Players
Board Games
Extremely easy to learn

Price

Plunder Board Game

Lost Boy Entertainment
6 Players
Pirate Theme
Helming your battleship experience

Price

Catan Board Game

Catan
3-4 Players
Science Fiction Theme
Strategy making

Price

Taco Vs Burrito Board Game

Taco Vs Burrito
2-4 Players
Strategic Games
Shifts into an unpredictable Territory

Price

The Chameleon Board Game

Big Potato
3-8 Players
Race
Learning not to get caught

Price

Stonemaier Wingspan Board Game

Stonemaier
1-5 Players
Nature, Birds
170 unique bird cards

Price
List of 10 Best Board Games In 2023
1. Cascadia Board Game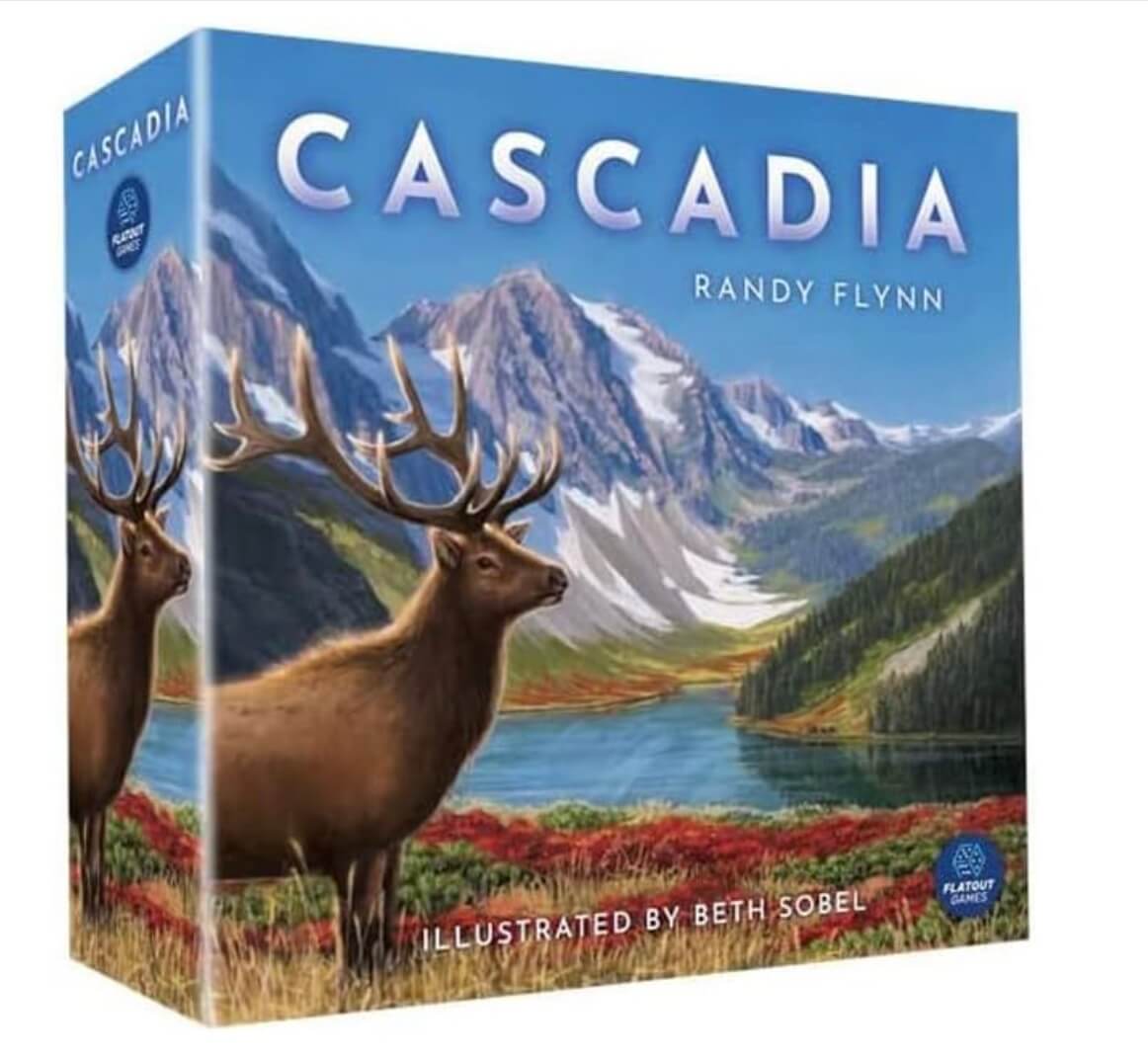 Build interconnected habitats in the Pacific Northwest.
Variable scoring goals for replayability.
Quick 5-minute setup time.
Suitable for 1 to 4 players.
Engaging spatial puzzle gameplay.
Key Specifications
| | |
| --- | --- |
| Material | Cardboard |
| Players needed | 1-4 players |
| Time to play | 30-45 mins playtime |
| Theme | Puzzle |
Cascadia is a charming board game set in the Pacific Northwest in which players compete to establish balanced ecosystems. Cascadia stands out among nature-themed board games by providing a spatial puzzle that challenges players to construct the most remarkable habitat corridors and achieve wildlife objectives. Cascadia's gameplay is comparable to that of the popular board game Carcassonne but with an emphasis on constructing interconnected habitats.
The gameplay mechanics of Cascadia are pleasantly straightforward and engaging. Participants strategically position a tile or token set each turn to expand their ecosystem.
Adding an element of competition and puzzle-solving to the experience, the game rewards players with points for achieving wildlife objectives and building the largest habitat corridors. With variable scoring objectives, each Cascadia session presents a unique spatial challenge, ensuring that no two games are identical.
Cascadia is a flexible game designed for 1 to 4 players that can accommodate a variety of group configurations. The game's 5-minute setup time lets players immediately immerse themselves in its immersive experience.
The typical 30 to 45 minutes balance gratifying gameplay and time constraints. Cascadia's easy-to-understand principles make it accessible to participants of all skill levels, making it an enjoyable experience for nature and strategy enthusiasts.
Our recommendation
Cascadia is an engaging and immersive board game that skillfully combines simplicity, strategy, and a nature-themed spatial conundrum. The variable scoring objectives guarantee replayability and new difficulties. Cascadia is an accessible and pleasurable option for many players due to its speedy setup and manageable game length.
Pros
Accessible for beginners.
Refreshing nature-themed experience.
Flexibility in accommodating group sizes.
Quick and immersive gameplay.
Cons
Potential lack of complexity.
2. Do You Really Know Your Family Board Game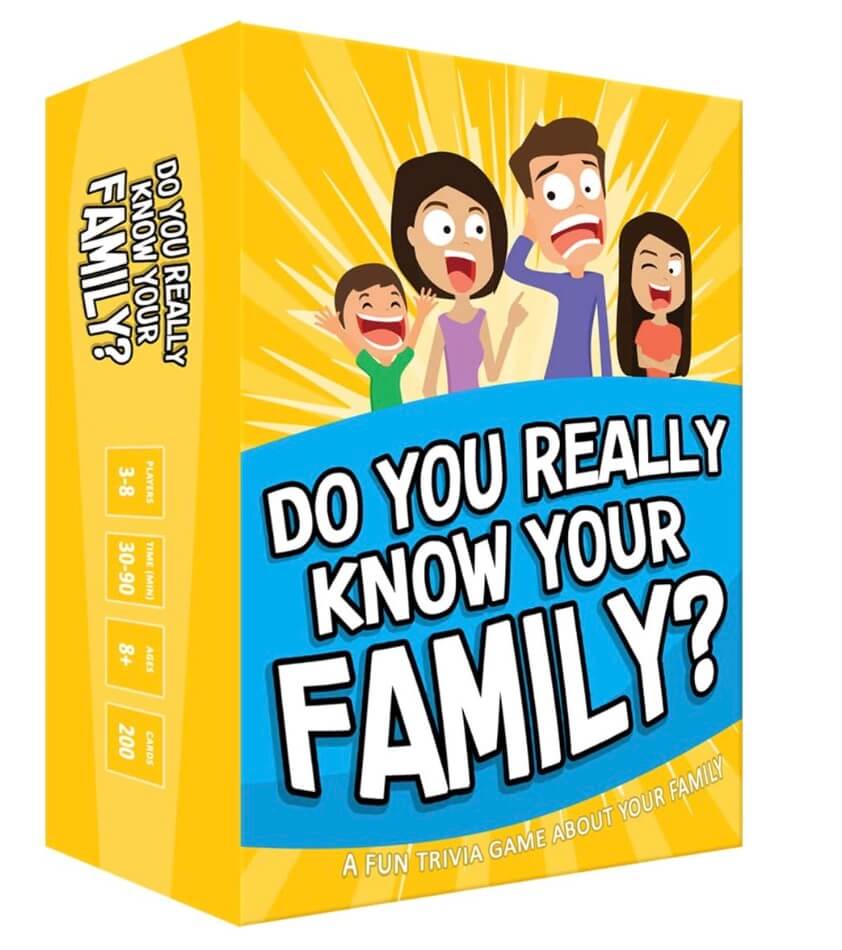 Laugh and learn about each other with fun questions and conversations.
Perform silly challenges for hilarious family moments.
Super easy to learn and play for families with kids 8 and up.
Take turns answering questions and collecting cards to win.
Promotes bonding and deeper family connections through shared experiences.
Key Specifications
| | |
| --- | --- |
| Material | Cardboard, Paper |
| Players needed | 3-8 |
| Time to play | 40-50 minutes |
| Theme | Trivia |
We present the "Do You Really Know Your Family" board game to spice up your family game night. Fun questions about each player will lead to great discussions and amusing recollections as participants enjoy this engaging card game. If you're familiar with "The Game of Life: Family Edition," you can think of "Do You Really Know Your Family" as a cousin, concentrating on knowledge testing and inventing funny problems.
This game is suitable for families with children above the age of 8 and older children and adults. It's great for people of all ages and ability levels since the rules are simple. Each player takes it in turn, picking a card and reading the corresponding self-introduction question aloud.
Players are rewarded points when they play challenge cards properly or complete their tasks. The one who completes the set of 15 family member cards first is declared the victor and deemed the most knowledgeable member of the clan.
Gameplay in "Do You Really Know Your Family" is straightforward, so there's no need to waste time getting the whole family set up before the fun begins. The emphasis on family relationships and individual expertise in the game encourages players to get to know one another better.
Thanks to the entertaining challenges and interesting questions, it's easy to get people talking and laughing. Because the average playtime varies with the number of participants and the game's speed, it can be adapted to various schedule limitations.
Our recommendation
Playing the board game "Do You Really Know Your Family" is a great way for families of all ages to have fun while learning about one another and creating lasting memories. It's great for family game night because of its simple rules, inclusive gaming, and thought-provoking topics.
Pros
Inclusive fun for various age groups.
Encourages laughter and conversation.
Simple setup and rules.
Fosters stronger family bonds.
3. Azul Board Game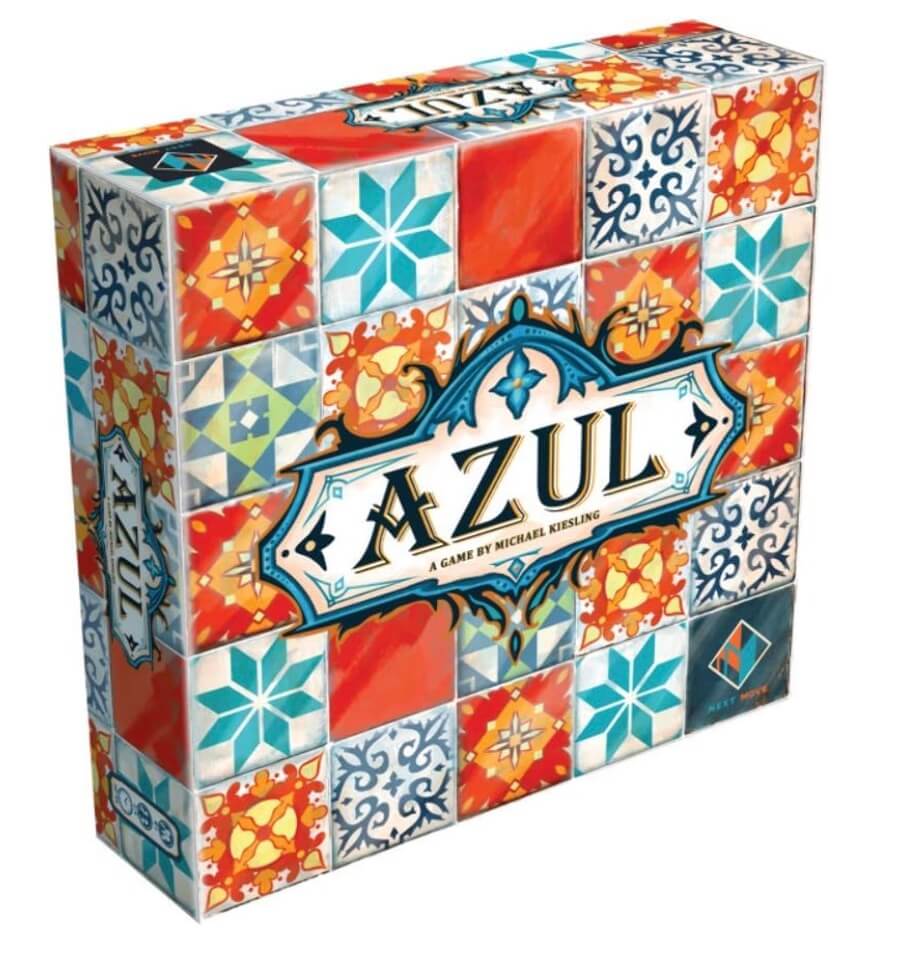 Tile placement for creating beautiful mosaics.
Strategic drafting and pattern-building gameplay.
Competitive, disrupting opponents' plans.
Easy to learn, with subtle depth.
Infinite replayability with randomized setup.
Key Specifications
| | |
| --- | --- |
| Material | Paper |
| Players needed | 2-4 |
| Time to play | 30-45 minutes |
| Theme | Patterns |
The Azul Board Game is a compelling tile placing game that immerses players in building stunning mosaics. Azul shines as a masterpiece in strategy board games, giving a unique gameplay like the famous game Sagrada, but with a concentration on tile placement and interrupting opponents' plans.
Azul combines strategic complexity with easy rules, making it suitable for novice and experienced players. Players pick tiles from a central market to earn points and strategically put them on their boards. Collecting sets of the same colour tile and forming specified patterns earns you extra points, but beware of penalties for collecting tiles that can't be utilized properly.
This intense and demanding game requires careful preparation since each tile claimed impacts opponents' possibilities. It becomes critical for success to balance personal advantages with inhibiting opponents' advancement. Azul's randomized setup and drafting gameplay contribute to its endless replayability, ensuring no two games are the same.
Azul, designed for 2 to 4 players aged 8 and above, provides a fun experience for family game evenings and adult groups. It combines a pleasurable gaming experience and fits within time limits, with an average playtime of 30 to 45 minutes.
Our Recommendation
Azul Board Game mixes simple rules, strategic complexity, and engaging action, making it an ideal option for players of all skill levels. Its tile arrangement mechanisms and deliberate decision-making provide a fun challenge. The competitive element of interrupting opponents' plans adds to the thrill.
Pros
Accessible to newcomers.
Captivating and elegant gameplay.
Strategic decision-making.
Suitable for various player counts.
Cons
Limited player interaction.
4. Hues and Cues Board Game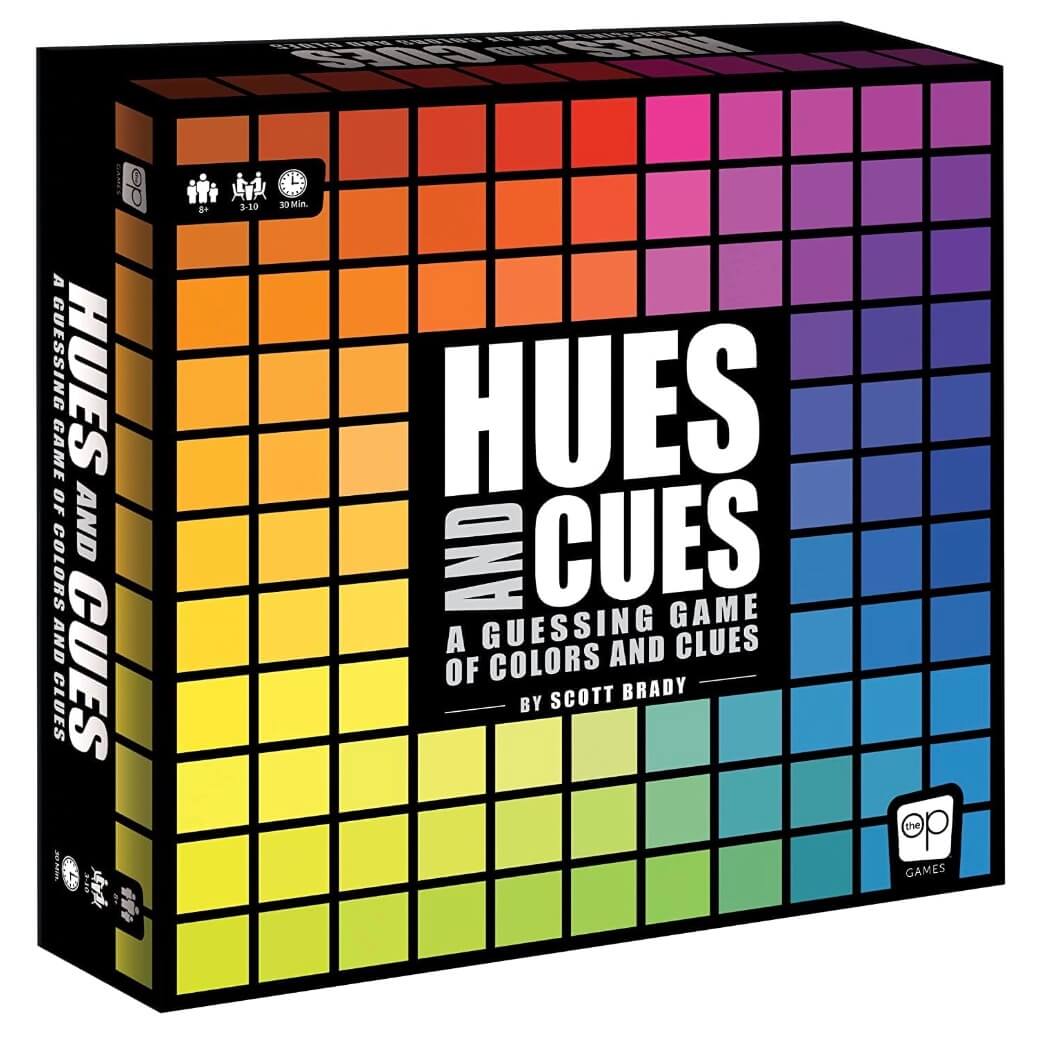 Test color knowledge with vibrant communication.
Use one and two-word cues to guess hues from 480 color squares.
Competitive gameplay with grayscale scoring.
Quick and easy setup, taking you directly to the game.
Suitable for 3-10 players, ages 8+.
Key Specifications
| | |
| --- | --- |
| Material | Wood, Paper |
| Players needed | 3-10 |
| Time to play | 30+ minutes |
| Theme | Colorful |
The Hues and Cues Board Game is a lively and entertaining party game that tests your color knowledge and communication skills. In color-based board games, Hues and Cues can be compared to the popular game Codenames, but with an emphasis on creating color connections using single- and double-word cues.
Hues and Cues are designed to accommodate a wide variety of players, from three to ten, making it an ideal choice for group gatherings and celebrations. The game's configuration is fast and simple, allowing players to begin the vibrant enjoyment immediately. The game finds a balance between providing a gratifying gameplay experience and fitting into various schedules, with an average duration of over 30 minutes.
The game aims to identify specific colors among the 480 color squares on the game board. Players must communicate effectively using one- and two-word prompts to assist others in making the correct color associations.
After one or two rounds, the victor is the competitor with the most points on the grayscale scoring track. This scoring system adds a strategic and competitive element to the game, encouraging players to carefully consider their cues and predictions.
Our recommendation
The Hues and Cues Board Game provides participants of all ages with an exciting and enjoyable experience. Its innovative emphasis on color knowledge and communication skills adds a fresh spin to the party game genre. It is an ideal choice for social gatherings due to its rapid setup, variable participant count, and moderate duration.
Pros
Engaging party game.
Encourages creativity and communication.
Flexible player count.
Quick and easy to learn.
5. Ravensburger Minecraft: Builders and Biomes Board Game
True Minecraft experience with Mojang collaboration.
New adventures and strategies in each game.
Clear instructions and high-quality components
Designed for 2 to 4 players, meaning less crowded gameplay.
Perfect gift for Minecraft lovers who enjoy Minecraft themes.
Key Specifications
| | |
| --- | --- |
| Material | Paper, Wood |
| Players needed | 2-4 |
| Time to play | 30+ minutes |
| Theme | Board Game |
Here is the board game adaptation of the popular computer game Minecraft, which is called Builders and Biomes by Ravensburger. In this game, made in partnership with Mojang, users can experience the full scope of Minecraft, from exploring the Overworld grid to devising their plans and building their path to victory. There are certain parallels between Minecraft: Builders and Biomes and the classic board game Settlers of Catan but with this Minecraft version.
This game was made just for Minecraft fans, and it's a blast for two to four people. The setup is simple, and a high-quality instruction booklet provides clear instructions so players can get right into the action.
Everything from the resource cubes to the building and monster cards to the weapon tokens to the player boards to the experience counters to the character skins is high quality and perfectly captures the spirit of the Minecraft world.
Minecraft: Builders & Biomes can be played repeatedly, with each new experience completely unique. Because players can experiment with various construction and biome tactics, no two games will ever be the same.
The game's average play duration is about right, allowing for a fulfilling experience without requiring too much of the player's attention.
Our recommendation
The popular computer game is now available as an engaging tabletop experience, courtesy of Ravensburger's Minecraft: Builders and Biomes Board Game. Its development with Mojang guarantees a genuine Minecraft experience, retaining the game's hallmarks of exploration, construction, and strategic thinking. The game's components are top-notch, and the straightforward rules suit gamers of varying experience levels. 
Pros
Immersive Minecraft-themed gameplay.
Endless replayability and variety.
High-quality components and instructions.
Collaborative and engaging experience.
Cons
Lacks depth in strategic gameplay.
6. Plunder Board Game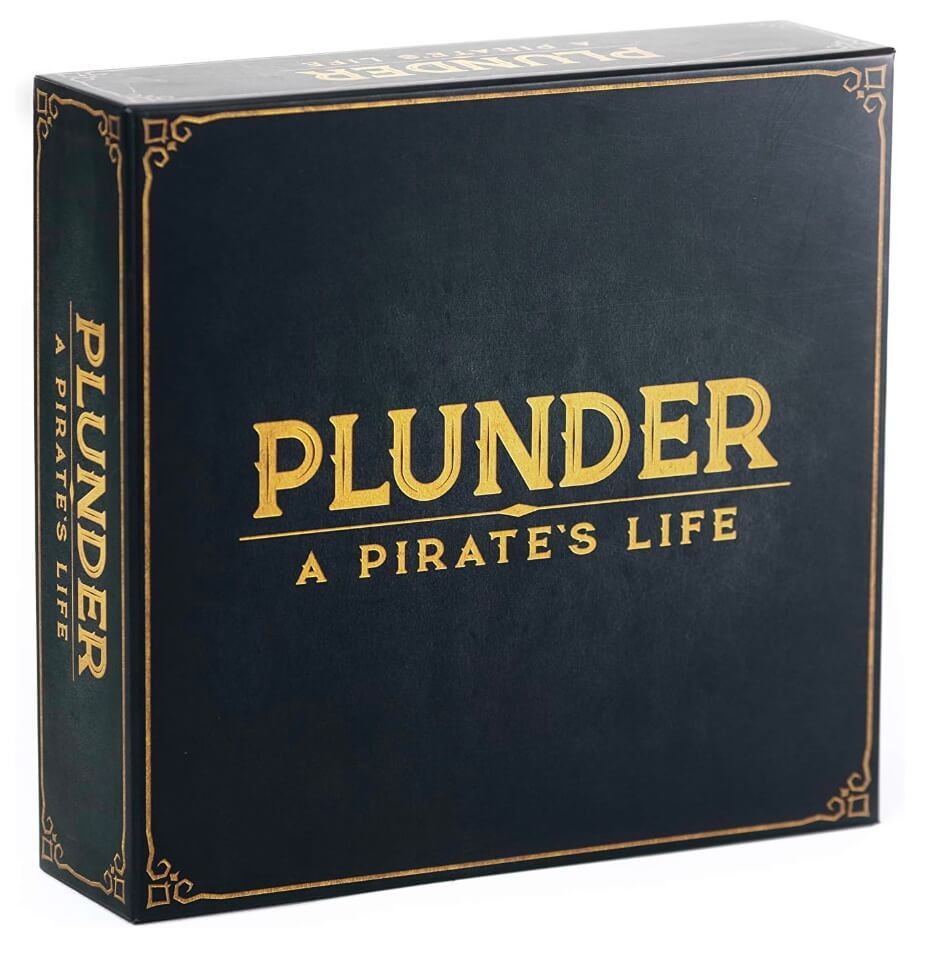 Command a fleet and conquer islands in strategic pirate warfare.
Easy-to-learn gameplay with thematic immersion.
High replayability with unique map configurations.
Designed for 2 to 6 players, plus a team play option.
No player elimination for continuous engagement.
Key Specifications
| | |
| --- | --- |
| Material | Cardboard |
| Players needed | 6 |
| Time to play | 20 minutes per player |
| Theme | Pirate |
The Plunder Board Game is a fascinating adventure in which heroic swashbucklers capture islands, create mighty ships, and command the seas. Plunder is a strategic board game like Settlers of Catan but with a compelling pirate theme and high seas conflict.
Plunder, designed for 2 to 6 people, provides a strategic gaming experience that appeals to new and experienced gamers. The game's themed and straightforward features make learning simple, and players can quickly guide their battleships around the Caribbean. The rulebook provides an overview guide for simple comprehension, ensuring all participants get off to a good start.
Plunder's tremendous replayability is one of its most notable aspects. The game board comprises six double-sided ocean tiles, creating a new map arrangement with each replay. This motivates players to experiment with new techniques and adjust their tactics to the game's shifting terrain.
Plunder's player counts, and average playtime suits various gameplay sessions. The game achieves a compromise between delivering an engaging gaming experience and falling within sensible time limits, with an average playtime of 20 minutes per player.
Our recommendation
Plunder Board Game provides an immersive and strategic pirate-themed experience for various players. Its simple principles make it suitable for novices, yet its depth and replayability appeal to experienced players.
Pros
Immersive pirate-themed gameplay.
Versatile appeal to different players.
Easy to learn and understand.
High replayability and strategic depth.
Cons
Could have offered more intrigue and fun.
7. Catan Board Game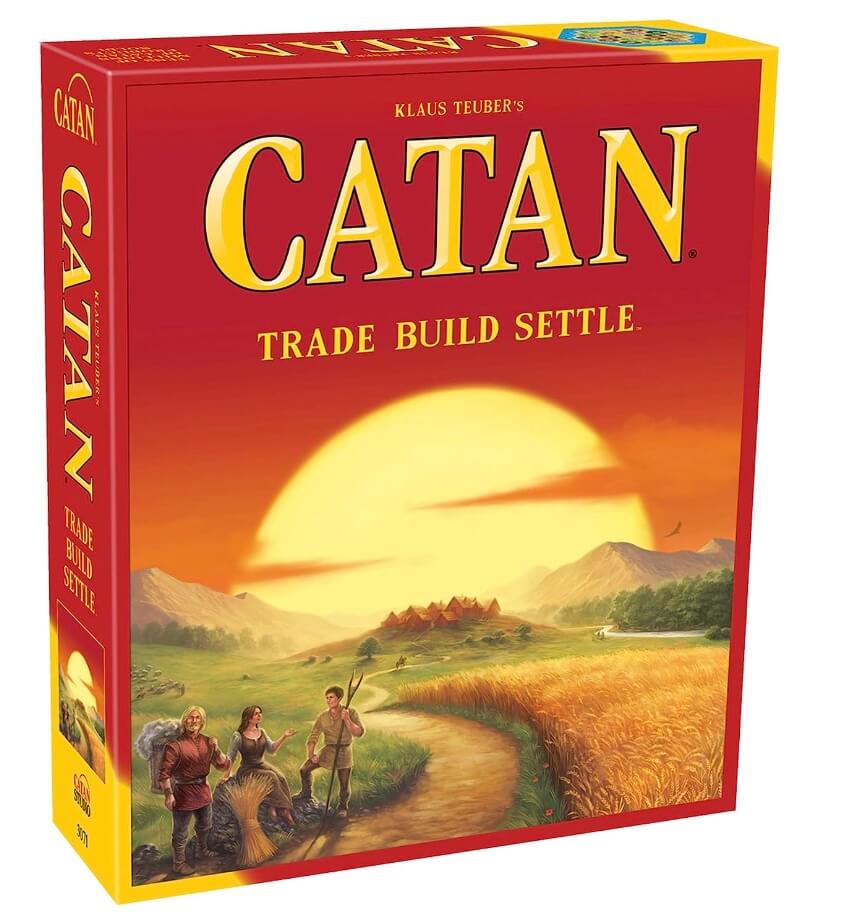 Strategic resource management and trading.
Ever-changing board for unique gameplay.
Fast-paced and interactive family game.
Easy to learn, but offers depth.
Engaging for both beginners and experienced players.
Key Specifications
| | |
| --- | --- |
| Material | Wood |
| Players needed | 3-4 |
| Time to play | 60 minutes |
| Theme | Science fiction |
The Catan Board Game introduces you to a strategic quest for settlement and triumph. Catan is a cherished classic in strategy board games, featuring a unique combination of resource management, trade, and clever building. Players can shepherd their settlers to victory in this fascinating game through shrewd deals and tactical decision-making. Catan's original gameplay distinguishes it from classic roll-and-move board games like Monopoly, providing a dynamic experience where every choice counts.
Catan's allure stems from its simplicity and depth. The game provides a lifetime of discovery after just a few minutes of learning. Players must use resources wisely, such as grain, wool, ore, brick, and timber, to get development cards and build highways, towns, and cities.
The game's ever-changing board, formed by a random combination of tiles, guarantees that no two games are similar, keeping players involved and curious as their tactics evolve.
Catan's dynamic and fast-paced nature makes it ideal for game evenings with family and friends, earning it the "Perfect Social Game." The typical duration of around 60 minutes achieves a compromise between giving an immersive experience and keeping the gaming session reasonable for 3 to 4 people aged 10 and above. Catan provides a simple but engaging adventure that appeals to varied skill levels, whether you're a seasoned strategist or a novice to board games.
Our recommendation
Catan Board Game mixes approachable gameplay, strategic complexity, and a dynamic board to provide a fun and engaging experience for players of all ages. Its unique resource management and trade combination distinguishes it from other roll-and-move games. While the game succeeds at delivering endless hours of entertainment and social interaction, some players can find the element of chance in dice rolling annoyingly at times. 
Pros
Immersive and dynamic gameplay.
Suitable for various skill levels.
Promotes social interaction.
Accessible yet strategic.
Cons
Element of luck in dice rolling.
8. Taco Vs Burrito Board Game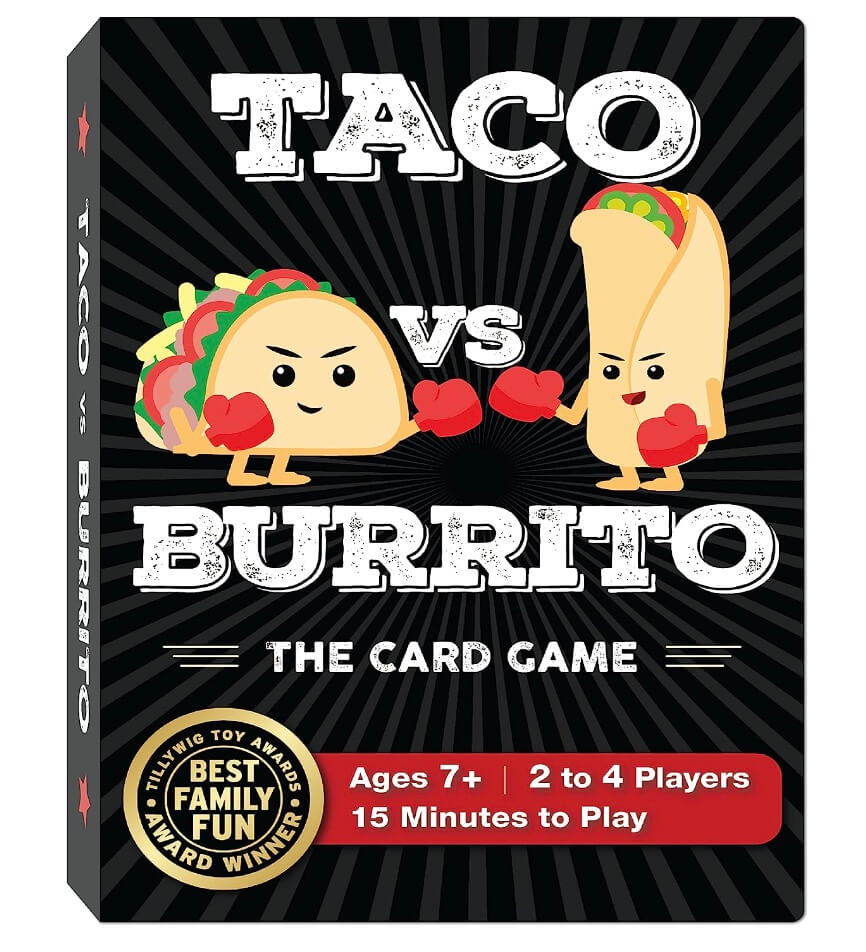 All-ages card game sensation.
Surprisingly strategic gameplay with unpredictable twists.
Played by a 7-year-old and over.
Easy to learn, quick to play, strategic requirements.
Perfect gift for board and card game lovers.
Key Specifications
| | |
| --- | --- |
| Material | Card, Paper |
| Players needed | 2-4 |
| Time to play | 10-15 minutes |
| Theme | Surprise |
The Taco vs. Burrito Board Game is a popular card game for all ages that combines strategy and exhilaration. This food fight craze, redolent of the popular game Exploding Kittens, offers surprisingly strategic gameplay with unpredictable variations, making it a success for children and adults.
The game is designed for 2 to 4 participants, is simple to learn, and can be completed in 10 to 15 minutes. The fundamental gameplay mechanics are straightforward, allowing players to comprehend the rules quickly. The Action Cards, however, add an element of surprise and strategy, keeping participants on their toes until the very last card.
Taco Vs. Burrito, the creation of a seven-year-old, has garnered immense popularity since its successful Kickstarter campaign. The game's broad appeal from ages 7 to 107 makes it ideal for family game evenings and social gatherings.
Due to the short setup and playtime requirements, it can be enjoyed during brief gaming sessions or as a leisure game between longer gaming sessions.
Our recommendation
The Taco vs. Burrito Board Game offers an ageless, incredibly entertaining, and strategic food combat experience. It is accessible and entertaining for players of varying talent levels due to its basic principles and fast gameplay. The unpredictable nature of the Action Cards adds to the exhilaration and assures that each game is a one-of-a-kind experience. 
Pros
Wide appeal for kids and adults.
Exciting gameplay until the end.
Quick setup and gameplay.
Created by a young innovator.
9. The Chameleon Board Game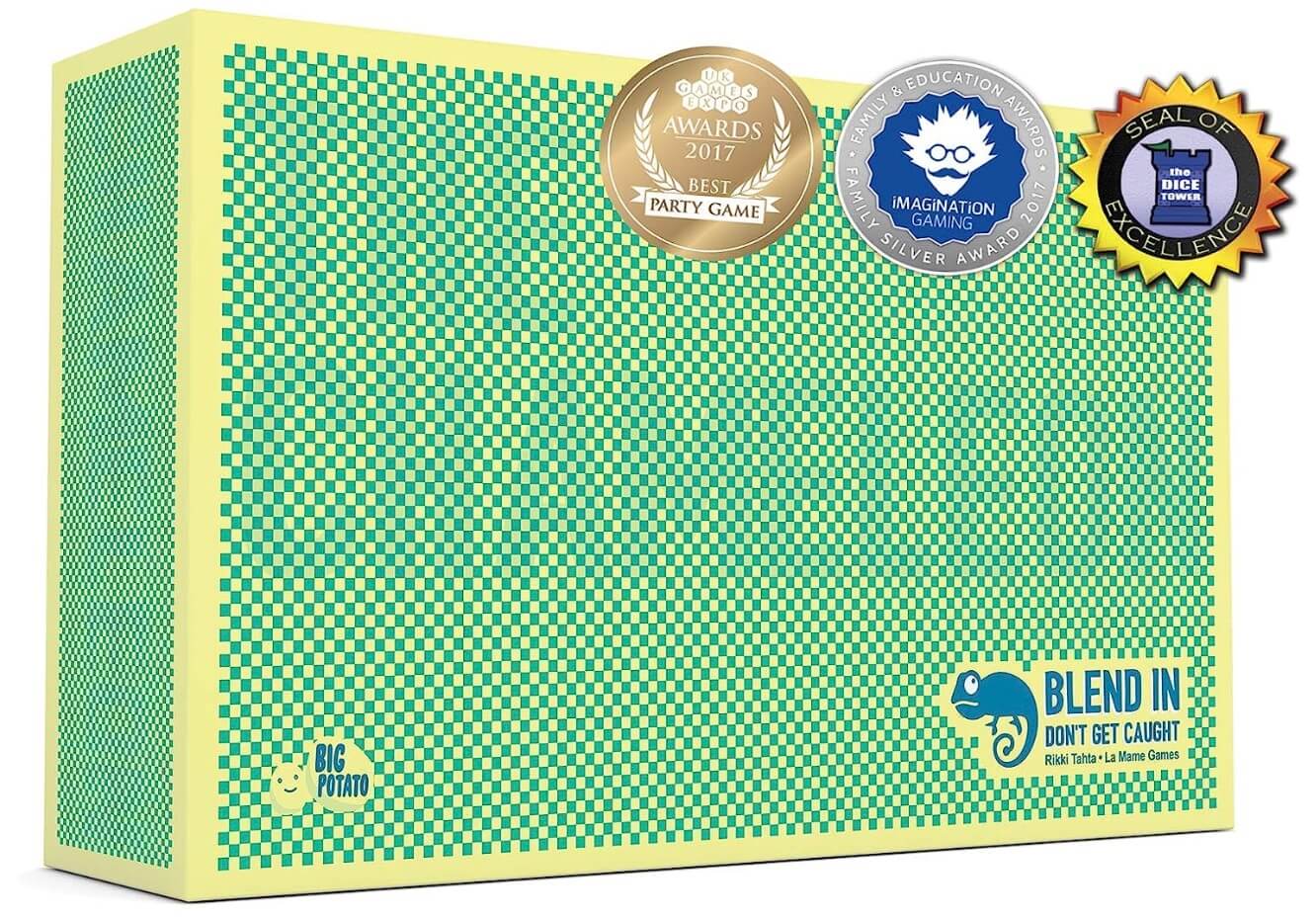 Sneaky social deduction game racing to catch the elusive chameleon.
Easy-to-learn, quick-to-play with hidden codes and deduction.
Award-winning game for adults and teenagers engaging and suspenseful gameplay.
Requires careful word choice and finger-pointing to track down the chameleon player.
Designed for 3-8 players, ages 14 and up, creating an inclusive gaming experience.
Key Specifications
| | |
| --- | --- |
| Material | Plastic |
| Players needed | 3-8 |
| Time to play | 15 minutes |
| Theme | Race |
The Chameleon Board Game is a cunning and exciting social deduction game in which players must race against the clock to capture the elusive chameleon. This captivating game is like the famous board game Spyfall, but with a unique twist and focus on locating the hidden player.
The Chameleon, designed for 3 to 8 players, provides an easy-to-learn and quick-play experience, making it a great option for family gatherings or game evenings with friends. With a quick setup time and a play length of just 15 minutes, the game maintains a high level of excitement and tension throughout.
The Chameleon's standout feature is its ingenious gaming mechanisms. Except for the player holding the chameleon card, all players know the secret word. The aim is to discover the guilty player before they blend in and escape using concealed codes, carefully selected statements, and a little finger-pointing. The game requires strong observation, deduction abilities, and the ability to mislead or detect deceit, resulting in a fascinating and entertaining experience for all players.
The Chameleon has received several awards, including the "Best Party Game" at the UK Games Expo and the "Seal of Excellence" from Dice Tower Games. Its awards attest to its capacity to interest adults and teens, making it a fantastic addition to any gaming library.
Our recommendation
The Chameleon Board Game is a fascinating and dramatic social deduction experience that engages and entertains players. Its simple setup, simple rules, and short playing time make it appealing to a broad spectrum of players. The game's smart features, as well as its accolades and acclaim, solidify its position as a great party game.
Pros
Engaging, quick, and suspenseful.
Appeals to a wide range of players.
Clever mechanics and recognition.
10. Stonemaier Wingspan Board Game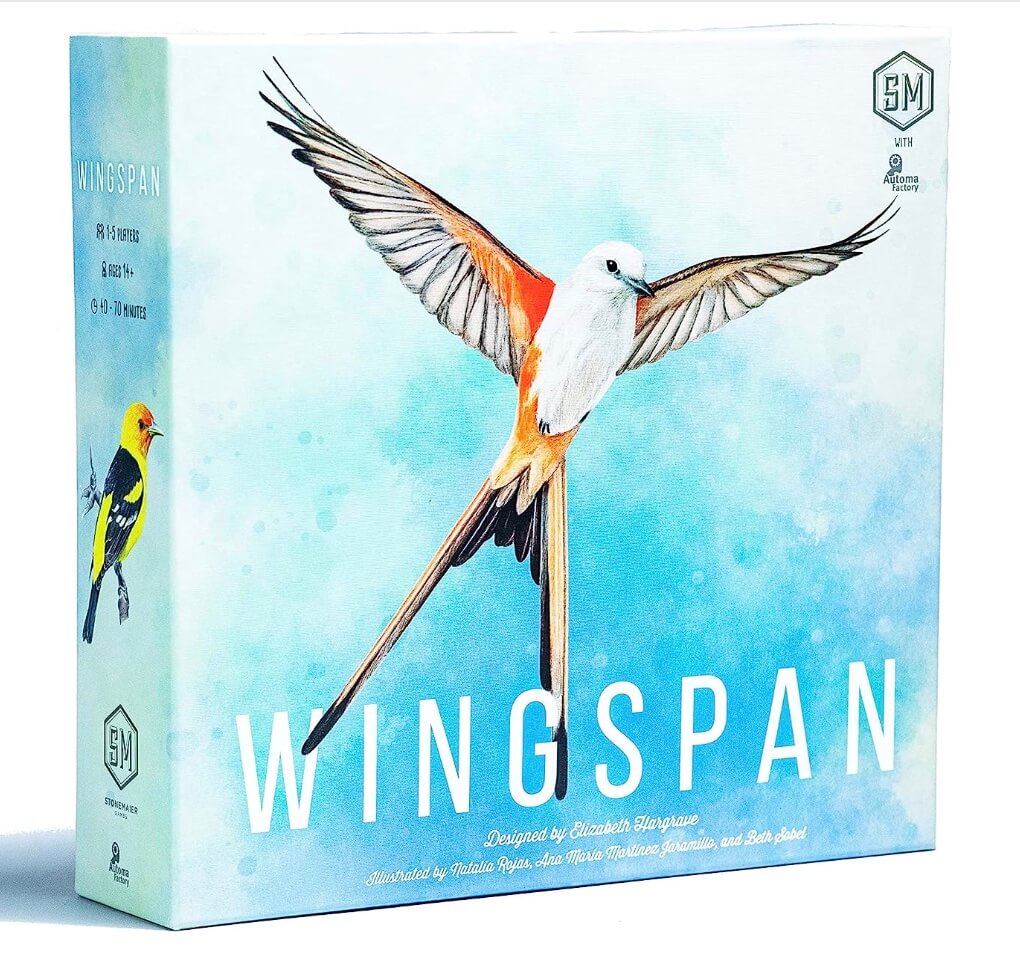 Competitive card-driven engine-building game with stunning artwork and diverse bird cards.
Recommended for ages 14 and up, providing a challenging strategic experience.
Extensive set with various components, including dice, tokens, miniatures, and player mats.
Versatile player counts from 1 to 5, accommodating solo and group play.
Offering a playing time of 40-70 minutes for an immersive gameplay experience.
Key Specifications
| | |
| --- | --- |
| Material | Plastic |
| Players needed | 1-5 |
| Time to play | 40-70 minutes |
| Theme | Nature, Birds |
The competitive, card-driven, and exciting engine-building experience of Stonemaier's Wingspan Board Game. The game's complex strategy means it's best left to those above 14. To provide a visually beautiful and engaging gaming experience, the whole set contains various components such as special bird cards, bonus cards, food tokens, egg miniatures, player mats, dice, and more.
Wingspan is a cooperative board game that can be played with as few as one or as many as five people. Players will need time to set up the board and rules before the game begins.
After initial setup, players can enjoy the game for up to 70 minutes, giving them plenty of time to enjoy the engaging action without feeling rushed.
In Wingspan, players work to populate their habitats with various birds by carefully allocating their actions and resources to create a powerful mechanism. Playing cards, managing resources, and making tactical choices are the game's core elements.
To maximize their score, players must balance accumulating points, acquiring bird cards with special powers, and maximizing their actions.
Our recommendation
Fans of engine-building and strategy games will like Stonemaier's Wingspan Board Game because of the immersive and thought-provoking experience it provides. It appeals to gamers looking for a board game that is both aesthetically pleasing and intellectually stimulating due to its magnificent artwork, extensive components, and hard gameplay.
Pros
Engaging strategic gameplay.
Stunning artwork and theme.
Versatile player count.
Comprehensive set with high-quality components.
[Buyer's Guide] Factors to Consider Before Buying Best Family Board Games
When it comes to board games for the whole family, choosing the correct one can bring your home a lot of fun and make for some wonderful memories. Before making a purchase, a few things should be considered, regardless of whether you are organizing a gaming night or searching for a new source of amusement. Because of these considerations, the game will be a hit with your loved ones, allowing for quality time spent together and offering hours of entertainment.
Let's consider some of the most important things before purchasing the finest board games for families.
1. Game material 
The level of craftsmanship put into individual game parts can significantly impact how enjoyable the experience is. Try to choose board games that include cards that can withstand repeated use, strong game boards, and tokens or miniatures that have been well-created.
Not only do materials of high quality make the game seem better, but they also assure its durability and make it possible to play it several times without showing any signs of wear and tear.
2. Time to play
Think about how long you spend playing the game on average. Engaging gameplay that doesn't require excessive time commitment is ideal for board games designed for families.
Determine whether the length of the game is compatible with the attention spans and availability of the members of your household. Choose activities that can be completed in a fair amount of time but maintain satisfactory excitement without dragging on for too long.
3. Numbers of players
Take into consideration the maximum number of players that the game can support. Ensure the game accommodates the number of people in your family or adapts to different player counts.
While it's possible that some games can only be played with a set number of people, others are adaptable enough to accommodate a far wider variety of players. Think about if you can only play the game by yourself or whether there are other opportunities to play with other people.
4. Theme and interest 
When picking a board game for your family, consider the overall theme and the individual members' hobbies. Finding a game that matches their tastes, whether action, strategy, trivia, or cooperative play, can significantly increase their participation and pleasure.
An engaging subject generates a feeling of immersion and excitement, making the game more pleasant for everyone participating by making it more applicable to their experiences.
5. Unique features and mechanics
Try to find games that include completely original elements and novel gameplay. These might be unique aspects of the game's gameplay, interactive components, or smart twists that set the game apart from others in the same genre.
The game's unique elements not only provide diversity and excitement but also keep it new and intriguing, encouraging players to play it several times and experiment with various tactics.
6. Age appropriateness 
Take into consideration the age range that is advised for playing the game. Ensure that the game's level of difficulty and content is appropriate for the members of your family who are the youngest and the oldest.
Look for games that provide varying degrees of challenge or difficulty to cater to players of varying skill levels. This will ensure that everyone can actively engage and enjoy the gameplay.
7. Replayability 
Consider the number of times you can play the game. A game has high replay value if it provides a range of gameplay options and guarantees that each run through the game seems new and exciting.
Look for games that provide more replayability by including randomized components, different winning ways, or expansions that can be purchased separately and added afterwards.
Frequently Asked Questions
What are some popular family board game options?
Popular family board games include classics such as Monopoly, Scrabble, and Clue and more contemporary games such as Ticket to Ride, Settlers of Catan, and Codenames. These games feature a variety of themes, mechanisms, and player counts to accommodate a variety of preferences and family dynamics.
How can I ensure the board game suits players of different ages?
Look for games with variable or scalable difficulty to facilitate players of varying talent levels. Many family board games have rules or components that can be modified based on the age or experience of the participants. In addition, consider games that encourage collaboration or cooperation, allowing younger and older family members to participate.
Are there any educational benefits to playing the best board games for children?
Yes, board games for families can provide educational benefits. They can enhance reasoning, problem-solving, and decision-making abilities. In addition, games with math, language, or trivia elements can enhance learning enjoyably and engagingly. Additionally, cooperative activities improve communication, collaboration, and social skills.
Can playing the best board games make family nights more enjoyable?
Yes, they can. Choose a game that matches everyone's interests and skill levels to make family game evenings more pleasurable. To promote variety, rotate the responsibility of selecting activities among family members. Create a comfortable and inviting environment for playing games, and consider adding refreshments or favours to enhance the enjoyment. Focus on the pleasure of spending quality time together, regardless of the game's outcome.
Conclusion
It's important to consider the game's playing material, playing length, player count, theme, and distinctive features while selecting the finest family board games. By considering these factors, families can locate games that not only appeal to the group members but also keep members of varying ages entertained and connected for long periods.
Whether it's a competitive strategy game like Azul, a laughter-filled card game like Do You Really Know Your Family, or an immersive ecosystem-building experience like Cascadia, the world of family board games offers something for everyone. Thus, wake up your gang of friends and family, throw dice, and go on an adventure. Have fun, gamers!